Notice
: Undefined variable: date_today in
/home/40grad-www/www/40grad-urbanart.de/wp-content/themes/40grad/header.php
on line
310
Array
(
    [0] => Array
        (
            [titel] => Ackerstraße 4
            [koordinaten] => 51.226210, 6.799139
            [marker_id] => 1733
            [permalink] => https://40grad-urbanart.de/orte/ackerstrasse-4/
            [thumbnail] => https://40grad-urbanart.de/wp-content/uploads/2016/09/08-44A.jpg
            [actions] => Array
                (
                    [0] => WP_Post Object
                        (
                            [ID] => 1735
                            [post_author] => 7
                            [post_date] => 2016-09-16 16:15:44
                            [post_date_gmt] => 2016-09-16 14:15:44
                            [post_content] => "Was tun?"
Wandbild an der Ackerstraße, Düsseldorf.
Alle Reisende die aus dem Norden nach Düsseldorf mit dem Zug kommen, werden jetzt kurz vor dem Hauptbahnhof von einem Affen begrüßt, der über den Zustand der Welt nachdenkt.
Die Wand liegt an den Bahngleisen, kurz vor dem Hauptbahnhof rechts. Zur Verfügung gestellt wurde sie von der Eisenbahner Wohnungsbaugesellschaft.
                            [post_title] => Wandbild "Was tun?" von Klaus Klinger
                            [post_excerpt] => 
                            [post_status] => publish
                            [comment_status] => closed
                            [ping_status] => closed
                            [post_password] => 
                            [post_name] => wandbild-was-tun-von-klaus-klinger
                            [to_ping] => 
                            [pinged] => 
                            [post_modified] => 2016-12-15 22:23:35
                            [post_modified_gmt] => 2016-12-15 21:23:35
                            [post_content_filtered] => 
                            [post_parent] => 0
                            [guid] => https://40grad-urbanart.de/?post_type=aktionen&p=1735
                            [menu_order] => 0
                            [post_type] => aktionen
                            [post_mime_type] => 
                            [comment_count] => 0
                            [filter] => raw
                        )

                )

            [museum] => 0
            [events] => 0
            [active_event] => 
        )

    [1] => Array
        (
            [titel] => Ackerstraße 41
            [koordinaten] => 51.226107, 6.798852
            [marker_id] => 1723
            [permalink] => https://40grad-urbanart.de/orte/ackerstrasse-41/
            [thumbnail] => https://40grad-urbanart.de/wp-content/uploads/2016/09/07-894A-268x220.jpg
            [actions] => Array
                (
                    [0] => WP_Post Object
                        (
                            [ID] => 1725
                            [post_author] => 7
                            [post_date] => 2016-09-16 15:54:30
                            [post_date_gmt] => 2016-09-16 13:54:30
                            [post_content] => "Bad Bank"
Die erste Spielbank, eine so genannte "Bad Bank" ist gerade in Düsseldorf entstanden. Wenn der Steuerzahler nicht genug abdrückt für die faulen Wertpapiere geht's den Kunden direkt an den Kragen. Das neue Projekt des Künstlers Klaus Klinger ist auf der Ackerstr. in Düsseldorf und von den Bahngleisen aus, kurz vor dem Hauptbahnhof, zu sehen.
Zur Verfügung gestellt und finanziert wurde die Wand, freundlicher Weise von dem Eisenbahner-Bauverein eG Düsseldorf.
Im Juni 2009 wird die Bad Bank von Unbekannten zensiert!
Wer war das? Banker-Politiker? Knechte-Sklaven? Mit viel Mühe wurde die Spielbank sehr ordentlich und passender Weise in Grau zensiert.
Mittlerweile ist sie aber wieder restauriert und die Bad Bank zurück.
                            [post_title] => Die "Bad Bank" von Klaus Klinger
                            [post_excerpt] => 
                            [post_status] => publish
                            [comment_status] => closed
                            [ping_status] => closed
                            [post_password] => 
                            [post_name] => die-bad-bank-von-klaus-klinger
                            [to_ping] => 
                            [pinged] => 
                            [post_modified] => 2016-12-15 22:24:32
                            [post_modified_gmt] => 2016-12-15 21:24:32
                            [post_content_filtered] => 
                            [post_parent] => 0
                            [guid] => https://40grad-urbanart.de/?post_type=aktionen&p=1725
                            [menu_order] => 0
                            [post_type] => aktionen
                            [post_mime_type] => 
                            [comment_count] => 0
                            [filter] => raw
                        )

                )

            [museum] => 0
            [events] => 0
            [active_event] => 
        )

    [2] => Array
        (
            [titel] => Ackerstraße 59
            [koordinaten] => 51.227048, 6.800490
            [marker_id] => 1726
            [permalink] => https://40grad-urbanart.de/orte/ackerstrasse-59/
            [thumbnail] => https://40grad-urbanart.de/wp-content/uploads/2016/09/11-354A-155x220.jpg
            [actions] => Array
                (
                    [0] => WP_Post Object
                        (
                            [ID] => 1728
                            [post_author] => 7
                            [post_date] => 2016-09-16 16:01:03
                            [post_date_gmt] => 2016-09-16 14:01:03
                            [post_content] => Das Tor zu Flingern
Flingern, Arbeiterviertel und multikulturell, im Wandel der Zeiten. Berühmt durch seine Fußballmannschaft Fortuna Düsseldorf, auch wenn sie gerade drittklassig ist, berüchtigt durch Figuren wie "der Vampir von Düsseldorf" (Peter Kürten, Massenmörder in den 30zigern Jahren) oder Graf Mocca von Tonelli" (Hellweg-Gang mit Robin Hood Image in der Nachkriegszeit). Die Firma Henkel hatte ihre Anfänge in Flingern und wurde wegen Geruchsbelästigung und aus Umweltschutzgründen nach Holthausen vertrieben und nicht zuletzt die Kiefernstrasse, damals berühmt durch Hausbesetzungen und Polizeirazzien. Heute ist Flingern im Umbruch, viele Fabriken haben zugemacht und die Arbeitslosigkeit steigt. Dafür kommen Yuppies, die Automeile, Spaßbad und viele Künstler.

Die Hauswand wurde von der Familie Buchwald zur Verfügung gestellt, die in dem Haus lange ein Frisörgeschäft hatten und Flingerer Urgestein sind.
                            [post_title] => Wandbild "Das Tor zu Flingern" von Farbfieber u.a.
                            [post_excerpt] => 
                            [post_status] => publish
                            [comment_status] => closed
                            [ping_status] => closed
                            [post_password] => 
                            [post_name] => wandbild-das-tor-zu-flingern-von-farbfieber-u-a
                            [to_ping] => 
                            [pinged] => 
                            [post_modified] => 2017-01-19 15:02:04
                            [post_modified_gmt] => 2017-01-19 14:02:04
                            [post_content_filtered] => 
                            [post_parent] => 0
                            [guid] => https://40grad-urbanart.de/?post_type=aktionen&p=1728
                            [menu_order] => 0
                            [post_type] => aktionen
                            [post_mime_type] => 
                            [comment_count] => 0
                            [filter] => raw
                        )

                )

            [museum] => 0
            [events] => 0
            [active_event] => 
        )

    [3] => Array
        (
            [titel] => Allwetterbad Flingern
            [koordinaten] => 51.224965, 6.834075
            [marker_id] => 119
            [permalink] => https://40grad-urbanart.de/orte/freibad-flinger-broich/
            [thumbnail] => https://40grad-urbanart.de/wp-content/uploads/2015/07/40grad_flingern-bad_mg_196-147x220.jpg
            [actions] => Array
                (
                    [0] => WP_Post Object
                        (
                            [ID] => 134
                            [post_author] => 1
                            [post_date] => 2015-07-18 17:29:09
                            [post_date_gmt] => 2015-07-18 15:29:09
                            [post_content] => 
                            [post_title] => Sprühaktion im Allwetterbad Flingern
                            [post_excerpt] => 
                            [post_status] => publish
                            [comment_status] => closed
                            [ping_status] => closed
                            [post_password] => 
                            [post_name] => allwetterbad-flingern
                            [to_ping] => 
                            [pinged] => 
                            [post_modified] => 2017-01-19 15:00:11
                            [post_modified_gmt] => 2017-01-19 14:00:11
                            [post_content_filtered] => 
                            [post_parent] => 0
                            [guid] => http://40grad-urbanart.de/?post_type=galerie&p=134
                            [menu_order] => 0
                            [post_type] => aktionen
                            [post_mime_type] => 
                            [comment_count] => 0
                            [filter] => raw
                        )

                )

            [museum] => 0
            [events] => 0
            [active_event] => 
        )

    [4] => Array
        (
            [titel] => Am Gather Hof 7
            [koordinaten] => 51.263970, 6.818012
            [marker_id] => 100
            [permalink] => https://40grad-urbanart.de/orte/am-gather-hof-7/
            [thumbnail] => https://40grad-urbanart.de/wp-content/uploads/2015/07/majo-03-marc-147x220.jpg
            [actions] => Array
                (
                    [0] => WP_Post Object
                        (
                            [ID] => 1587
                            [post_author] => 2
                            [post_date] => 2016-08-07 22:10:23
                            [post_date_gmt] => 2016-08-07 20:10:23
                            [post_content] => Marc und Joe Hennig haben sich durch die Gestaltung großer Wandbilder, wie beispielsweise auf der Kiefernstraße in Düsseldorf, einen Namen gemacht. Aus der Graffiti-Malerei entwickelten sie von 1986 bis heute ihren Stil, der sowohl in professionelles Artwork, wie in ihre freie Kunst fließt. Mit ihrer typischen und sympathischen Bildsprache bereichern sie nicht nur den öffentlichen Raum. Auch Privatleute zählen zu ihren Auftraggebern, die sich fantasievolle Gemälde auf die Hausfassaden malen lassen und diese Kunstform auch innerhalb der eigenen vier Wände schätzen. Eine ihrer wichtigsten Aufgaben sehen sie jedoch im sozialen Engagement und in der Jugendarbeit: 2010 gründeten sie den Jugendkunstverein Verbunt e.V..
                            [post_title] => Wandbild "Gelber Affe" der Majo Brothers zum 40grad Festival 2013
                            [post_excerpt] => 
                            [post_status] => publish
                            [comment_status] => closed
                            [ping_status] => closed
                            [post_password] => 
                            [post_name] => wandbild-gelber-affe-der-majo-brothers
                            [to_ping] => 
                            [pinged] => 
                            [post_modified] => 2017-01-19 15:03:39
                            [post_modified_gmt] => 2017-01-19 14:03:39
                            [post_content_filtered] => 
                            [post_parent] => 0
                            [guid] => https://40grad-urbanart.de/?post_type=aktionen&p=1587
                            [menu_order] => 0
                            [post_type] => aktionen
                            [post_mime_type] => 
                            [comment_count] => 0
                            [filter] => raw
                        )

                )

            [museum] => 0
            [events] => 0
            [active_event] => 
        )

    [5] => Array
        (
            [titel] => Am Heerdter Hof 9
            [koordinaten] => 51.233050, 6.721185
            [marker_id] => 2295
            [permalink] => https://40grad-urbanart.de/orte/am-heerdter-hof-9/
            [thumbnail] => https://40grad-urbanart.de/wp-content/uploads/2016/12/1a-374x220.jpg
            [actions] => 0
            [museum] => Array
                (
                    [0] => WP_Post Object
                        (
                            [ID] => 2305
                            [post_author] => 7
                            [post_date] => 2016-12-12 12:03:16
                            [post_date_gmt] => 2016-12-12 11:03:16
                            [post_content] => 
                            [post_title] => Wandbild "Hirsch" von Shogun zum 40grad Festival 2013
                            [post_excerpt] => 
                            [post_status] => publish
                            [comment_status] => closed
                            [ping_status] => closed
                            [post_password] => 
                            [post_name] => wandbild-hirsch-von-shogun-zum-40grad-festival-2013
                            [to_ping] => 
                            [pinged] => 
                            [post_modified] => 2017-01-19 15:04:01
                            [post_modified_gmt] => 2017-01-19 14:04:01
                            [post_content_filtered] => 
                            [post_parent] => 0
                            [guid] => https://40grad-urbanart.de/?post_type=aktionen&p=2305
                            [menu_order] => 0
                            [post_type] => aktionen
                            [post_mime_type] => 
                            [comment_count] => 0
                            [filter] => raw
                        )

                )

            [events] => 0
            [active_event] => 
        )

    [6] => Array
        (
            [titel] => Am Wehrhahn 61 – #LEGLOS-Werkstatt 2.0
            [koordinaten] => 51.228873, 6.793362
            [marker_id] => 1786
            [permalink] => https://40grad-urbanart.de/orte/am-wehrhahn-61-leglos-werkstatt-2-0/
            [thumbnail] => https://40grad-urbanart.de/wp-content/uploads/2016/11/IMG_2981-e1481041053473-165x220.jpg
            [actions] => 0
            [museum] => Array
                (
                    [0] => WP_Post Object
                        (
                            [ID] => 1803
                            [post_author] => 7
                            [post_date] => 2016-12-06 18:21:02
                            [post_date_gmt] => 2016-12-06 17:21:02
                            [post_content] => Zehn Tage lang haben wir ein leerstehendes Ladenlokal in der Düsseldorfer Innenstadt zu einer kreativen Werkstatt verwandeln. Täglich gabt es hier Workshops mit erfahrenen Künstlern, spannende Aktionen und Veranstaltungen oder einfach nur Raum um kreativ und aktiv zu sein.
Du konntest aber auch einfach nur vorbei kommen, spielen, chillen oder die kreative Atmosphäre genießen. Einfach austauschen und  Teil der #LEGLOS Werkstatt 2.0 sein.
                            [post_title] => #LEGLOS-Werkstatt 2.0
                            [post_excerpt] => 
                            [post_status] => publish
                            [comment_status] => closed
                            [ping_status] => closed
                            [post_password] => 
                            [post_name] => leglos-werkstatt-2-0
                            [to_ping] => 
                            [pinged] => 
                            [post_modified] => 2017-01-19 14:42:29
                            [post_modified_gmt] => 2017-01-19 13:42:29
                            [post_content_filtered] => 
                            [post_parent] => 0
                            [guid] => https://40grad-urbanart.de/?post_type=aktionen&p=1803
                            [menu_order] => 0
                            [post_type] => aktionen
                            [post_mime_type] => 
                            [comment_count] => 0
                            [filter] => raw
                        )

                )

            [events] => 0
            [active_event] => 
        )

    [7] => Array
        (
            [titel] => AWO-Haus, Liststr. 2, 2016
            [koordinaten] => 51.248291, 6.794922
            [marker_id] => 2633
            [permalink] => https://40grad-urbanart.de/orte/awo-haus-liststr-2-2016/
            [thumbnail] => https://40grad-urbanart.de/wp-content/uploads/2017/01/awo-wand-kl-157x220.jpg
            [actions] => Array
                (
                    [0] => WP_Post Object
                        (
                            [ID] => 2635
                            [post_author] => 7
                            [post_date] => 2017-01-12 12:12:28
                            [post_date_gmt] => 2017-01-12 11:12:28
                            [post_content] => Die Wand ist 25m hoch, zu den Gleisen am Bahnhof Derendorf gelegen und ist von allen Zügen, die aus dem Norden nach Düsseldorf kommen, zu sehen.
Die Welt ist in Gefahr und wir müssen was tun, das ist die Botschaft des Wandbildes.
Das Bild ist eins von sechzehn Wandbildern, die 2016 im Rahmen des landesweiten Projektes Weltbaustellen, des Eine Welt Netz NRW entstehen.


"Heisse Welt", Liststr. 2, 2016
AWO-Haus, S-Bahnhof Derendorf
Künstler: Isaac Linares, Cuba
Klaus Klinger
                            [post_title] => Wandbild "Heisse Welt" von Isaac Linares und Klaus Klinger, 2016
                            [post_excerpt] => 
                            [post_status] => publish
                            [comment_status] => closed
                            [ping_status] => closed
                            [post_password] => 
                            [post_name] => wandbild-heisse-welt-von-isaac-linares-und-klaus-klinger-2016
                            [to_ping] => 
                            [pinged] => 
                            [post_modified] => 2017-01-12 12:12:28
                            [post_modified_gmt] => 2017-01-12 11:12:28
                            [post_content_filtered] => 
                            [post_parent] => 0
                            [guid] => https://40grad-urbanart.de/?post_type=aktionen&p=2635
                            [menu_order] => 0
                            [post_type] => aktionen
                            [post_mime_type] => 
                            [comment_count] => 0
                            [filter] => raw
                        )

                )

            [museum] => 0
            [events] => 0
            [active_event] => 
        )

    [8] => Array
        (
            [titel] => Bachstr. 126
            [koordinaten] => 51.209547, 6.774549
            [marker_id] => 1709
            [permalink] => https://40grad-urbanart.de/orte/bachstr-126/
            [thumbnail] => https://40grad-urbanart.de/wp-content/uploads/2016/09/04-1020A-323x220.jpg
            [actions] => Array
                (
                    [0] => WP_Post Object
                        (
                            [ID] => 1711
                            [post_author] => 7
                            [post_date] => 2016-09-16 13:50:33
                            [post_date_gmt] => 2016-09-16 11:50:33
                            [post_content] => Warschau und Düsseldorf verbindet seit 20 Jahren eine Städtepartnerschaft, sicherlich ein guter Grund für Zeichen im öffentlichen Raum.
Vor 2 Jahren begann Farbfieber einen Kulturaustausch mit Künstlern aus Polen.In Warschau arbeitete Farbfieber mit der Fundacją Open Art Projects, dem Kulturamt Warschau und der Künstlergruppe Twozywo zusammen.

Jetzt wurde zusammen mit dem Künstler Ivo Nikic aus Warschau von der Gruppe szu szu aus Warschau und dem Düsseldorfer Künstler Klaus Klinger an der Bachstr. 126, das Partnerbild an einer 21 Meter hohen Wand gestaltet. Die Künstlergruppe szu szu ist in Polen durch verschiedene Interventionen im öffentlichen Raum bekannt.

Konsumonsum ist eine ironische Anspielung auf unser Konsumverhalten und auf die augenblickliche Krise, die vor allem Menschen mit wenig Geld betrifft. Ist das Glas noch halbvoll oder schon halbleer, bedroht von einer großen Welle? Geht es um Kaufen, Kaufen, Kaufen oder um Existenzsicherung? Die Nähe des neuen Einkaufscenter neben dem Wandbild mit seinen Versprechungen hat sicherlich die Ideenfindung beeinflusst, das Motiv ist aber nur ein Anstoß und lässt Raum für weitgehende eigene Interpretationen.
Der Kulturaustausch wird weitergehen und 2012 wird Farbfieber zwei weitere Projekte mit polnischen Künstlern in Kattowitz und Düsseldorf realisieren.

Unterstützt wird das Projekt von:
den Kulturämtern Düsseldorf und Warschau
dem NRW Kultursekretariat
dem Ministerium für Familie, Kinder, Jugend, Kultur und Sport des Landes NRW
dem polnischen Institut Düsseldorf
                            [post_title] => Wandbild "Konsumonsun"
                            [post_excerpt] => 
                            [post_status] => publish
                            [comment_status] => closed
                            [ping_status] => closed
                            [post_password] => 
                            [post_name] => wandbild-konsumonsun
                            [to_ping] => 
                            [pinged] => 
                            [post_modified] => 2017-01-19 15:04:19
                            [post_modified_gmt] => 2017-01-19 14:04:19
                            [post_content_filtered] => 
                            [post_parent] => 0
                            [guid] => https://40grad-urbanart.de/?post_type=aktionen&p=1711
                            [menu_order] => 0
                            [post_type] => aktionen
                            [post_mime_type] => 
                            [comment_count] => 0
                            [filter] => raw
                        )

                )

            [museum] => 0
            [events] => 0
            [active_event] => 
        )

    [9] => Array
        (
            [titel] => Brinkmannstr. 16, Hulda Pankok Gesamtschule
            [koordinaten] => 51.203218, 6.791681
            [marker_id] => 2623
            [permalink] => https://40grad-urbanart.de/orte/brinkmannstr-16-hulda-pankok-gesamtschule/
            [thumbnail] => https://40grad-urbanart.de/wp-content/uploads/2017/01/567A-185x220.jpg
            [actions] => Array
                (
                    [0] => WP_Post Object
                        (
                            [ID] => 2625
                            [post_author] => 7
                            [post_date] => 2017-01-12 11:46:06
                            [post_date_gmt] => 2017-01-12 10:46:06
                            [post_content] => Der Entwurf wurde von den SchülerInnen in einer Projektwoche zusammen mit dem Künstler erarbeitet. Aus den verschiedenen Ideen wurde dann dieser Entwurf angefertigt und in einer weiteren Woche mit Unterstützung von SchülerInnen der Partnerschule aus Brandenburg an die 14 Meter hohe Schulwand gemalt.
Das hochaktuelle Wandbild an 14 m hohen Fassade der Hulda-Pankok-Gesamtschule wirkt nur auf den ersten Blick fröhlich. Was zunächst wie ein Clownsgesicht aussieht, entpuppt sich bei genauerem Hinsehen als nicht sehr optimistisch, aber realitätsnah: Die reichen Städte schließen ihre Grenzen, und die Sintflut steigt.
                            [post_title] => Wandbild mit Schülern der Hulda Pankok Gesamtschule und Klaus Klinger, 1998
                            [post_excerpt] => 
                            [post_status] => publish
                            [comment_status] => closed
                            [ping_status] => closed
                            [post_password] => 
                            [post_name] => wandbild-mit-schuelern-der-hulda-pankok-gesamtschule-und-klaus-klinger-1998
                            [to_ping] => 
                            [pinged] => 
                            [post_modified] => 2017-01-12 11:46:06
                            [post_modified_gmt] => 2017-01-12 10:46:06
                            [post_content_filtered] => 
                            [post_parent] => 0
                            [guid] => https://40grad-urbanart.de/?post_type=aktionen&p=2625
                            [menu_order] => 0
                            [post_type] => aktionen
                            [post_mime_type] => 
                            [comment_count] => 0
                            [filter] => raw
                        )

                )

            [museum] => 0
            [events] => 0
            [active_event] => 
        )

    [10] => Array
        (
            [titel] => Bunker, Aachener Straße/Ecke Karolingerstraße
            [koordinaten] => 51.204444, 6.772932
            [marker_id] => 2479
            [permalink] => https://40grad-urbanart.de/orte/bunker-aachener-strasseecke-karolingerstrasse/
            [thumbnail] => https://40grad-urbanart.de/wp-content/uploads/2016/12/DSCF4456-330x220.jpg
            [actions] => Array
                (
                    [0] => WP_Post Object
                        (
                            [ID] => 2481
                            [post_author] => 7
                            [post_date] => 2016-12-19 16:49:42
                            [post_date_gmt] => 2016-12-19 15:49:42
                            [post_content] => 1995 "Zeitreisende"

Düsseldorf, Bunker, Aachenerstr., 700qm,
Künstler: Isaac Linares (Cuba), Sabahattin Sen (Türkei), Klaus Klinger

Mitarbeiter: Paola Ramirez, Gera Hoogland, Marq Eichberger und viele Helfer mehr
                            [post_title] => Wandgemälde "Zeitreisende", Aachenerstr., 1995
                            [post_excerpt] => 
                            [post_status] => publish
                            [comment_status] => closed
                            [ping_status] => closed
                            [post_password] => 
                            [post_name] => wandgemaelde-zeitreisende-aachenerstr-1995
                            [to_ping] => 
                            [pinged] => 
                            [post_modified] => 2017-01-19 15:10:27
                            [post_modified_gmt] => 2017-01-19 14:10:27
                            [post_content_filtered] => 
                            [post_parent] => 0
                            [guid] => https://40grad-urbanart.de/?post_type=aktionen&p=2481
                            [menu_order] => 0
                            [post_type] => aktionen
                            [post_mime_type] => 
                            [comment_count] => 0
                            [filter] => raw
                        )

                )

            [museum] => 0
            [events] => 0
            [active_event] => 
        )

    [11] => Array
        (
            [titel] => Düsseldorfer Arkaden in Bilk
            [koordinaten] => 51.208078, 6.772682
            [marker_id] => 2012
            [permalink] => https://40grad-urbanart.de/orte/duesseldorfer-arkaden-in-bilk/
            [thumbnail] => https://40grad-urbanart.de/wp-content/uploads/2016/12/01_Dispatchwork-broken-glass_6_WM_web-147x220.jpg
            [actions] => Array
                (
                    [0] => WP_Post Object
                        (
                            [ID] => 2014
                            [post_author] => 7
                            [post_date] => 2016-12-08 18:53:48
                            [post_date_gmt] => 2016-12-08 17:53:48
                            [post_content] => 
                            [post_title] => "Dispatchwork [broken glass]" by cole blaq
                            [post_excerpt] => 
                            [post_status] => publish
                            [comment_status] => closed
                            [ping_status] => closed
                            [post_password] => 
                            [post_name] => dispatchwork-broken-glass-by-cole-blaq
                            [to_ping] => 
                            [pinged] => 
                            [post_modified] => 2016-12-08 18:53:48
                            [post_modified_gmt] => 2016-12-08 17:53:48
                            [post_content_filtered] => 
                            [post_parent] => 0
                            [guid] => https://40grad-urbanart.de/?post_type=aktionen&p=2014
                            [menu_order] => 0
                            [post_type] => aktionen
                            [post_mime_type] => 
                            [comment_count] => 0
                            [filter] => raw
                        )

                )

            [museum] => 0
            [events] => 0
            [active_event] => 
        )

    [12] => Array
        (
            [titel] => Eintrachtstraße 1
            [koordinaten] => 51.220751, 6.799287
            [marker_id] => 2534
            [permalink] => https://40grad-urbanart.de/orte/eintrachtstrasse-1/
            [thumbnail] => https://40grad-urbanart.de/wp-content/uploads/2016/12/DSCF4490-147x220.jpg
            [actions] => Array
                (
                    [0] => WP_Post Object
                        (
                            [ID] => 2536
                            [post_author] => 7
                            [post_date] => 2016-12-20 15:14:03
                            [post_date_gmt] => 2016-12-20 14:14:03
                            [post_content] => Marc: 2004 wurde ich von einem Hauseigentümer angesprochen, der gefragt hat, ob ich Lust hätte, die Hausfassade von ihm zu gestalten. 6 Jahre später rief dann jemand an, der fragte, ob ich mich an das Gespräch zu der Hausfassade an der Kölner Straße bzw. Eintrachtstraße erinnern würde. Daraufhin sind wir hingefahren und haben, bevor es um das Wandbild an sich ging, das Finanzielle abgeklärt, bevor es dann als Dankeschön beispielsweise nur 2 Bier gibt. Er hatte auch schon bestimmte Vorstellungen was das Wandbild anging. Das Erste war, dass er etwas wollte, was auffällt aber das Zweite war, dass er kein Geld hatte. Dann habe ich gesagt: "Okay, ich mach dir 'nen auffälligen Entwurf für kein Geld." Und das war dann hier relativ einfach. Es bezieht sich so gut wie gar nicht auf die Umgebung und ist quasi Werbung im eigenen Sinne, die einfach angeflogen kommt und sich vor die Haustüre der Leute setzt. Komischerweise hatten wir bei diesem Wandbild keine Probleme mit den Nachbarn, weil du immer Reaktionen der Menschen erlebst, wenn du dich viele Stunden im Stadtteil bewegst. Es gibt Städte, da wirst du beschimpft und es wird das Gerüst hochgebrüllt und irgendwie passt sich das meistens an und die Menschen identifizieren sich mit dem Wandbild. Hier war es so, dass keiner gemeckert hat – total genial!
                            [post_title] => Wandbild 'der Gelbe Affe' von den MaJo brothers, 2011
                            [post_excerpt] => 
                            [post_status] => publish
                            [comment_status] => closed
                            [ping_status] => closed
                            [post_password] => 
                            [post_name] => wandbild-der-gelbe-affe-von-den-majo-brothers-2011
                            [to_ping] => 
                            [pinged] => 
                            [post_modified] => 2017-01-19 15:01:12
                            [post_modified_gmt] => 2017-01-19 14:01:12
                            [post_content_filtered] => 
                            [post_parent] => 0
                            [guid] => https://40grad-urbanart.de/?post_type=aktionen&p=2536
                            [menu_order] => 0
                            [post_type] => aktionen
                            [post_mime_type] => 
                            [comment_count] => 0
                            [filter] => raw
                        )

                )

            [museum] => 0
            [events] => 0
            [active_event] => 
        )

    [13] => Array
        (
            [titel] => Ellerstraße 110
            [koordinaten] => 51.215628, 6.798468
            [marker_id] => 116
            [permalink] => https://40grad-urbanart.de/orte/ellerstrasse-110/
            [thumbnail] => https://40grad-urbanart.de/wp-content/uploads/2015/07/moh-one_Troja-133x220.jpg
            [actions] => Array
                (
                    [0] => WP_Post Object
                        (
                            [ID] => 1079
                            [post_author] => 7
                            [post_date] => 2015-08-22 15:17:23
                            [post_date_gmt] => 2015-08-22 13:17:23
                            [post_content] => 
                            [post_title] => MohOne Wallpainting
                            [post_excerpt] => 
                            [post_status] => publish
                            [comment_status] => closed
                            [ping_status] => closed
                            [post_password] => 
                            [post_name] => ellerstrasse-110
                            [to_ping] => 
                            [pinged] => 
                            [post_modified] => 2017-01-19 14:59:03
                            [post_modified_gmt] => 2017-01-19 13:59:03
                            [post_content_filtered] => 
                            [post_parent] => 0
                            [guid] => https://40grad-urbanart.de/?post_type=galerie&p=1079
                            [menu_order] => 0
                            [post_type] => aktionen
                            [post_mime_type] => 
                            [comment_count] => 0
                            [filter] => raw
                        )

                )

            [museum] => 0
            [events] => 0
            [active_event] => 
        )

    [14] => Array
        (
            [titel] => Ellerstraße 67
            [koordinaten] => 51.216681, 6.794008
            [marker_id] => 101
            [permalink] => https://40grad-urbanart.de/orte/ellerstrasse-67/
            [thumbnail] => https://40grad-urbanart.de/wp-content/uploads/2015/07/pierre-galic-165x220.jpg
            [actions] => Array
                (
                    [0] => WP_Post Object
                        (
                            [ID] => 1589
                            [post_author] => 2
                            [post_date] => 2016-08-07 22:17:29
                            [post_date_gmt] => 2016-08-07 20:17:29
                            [post_content] => 
                            [post_title] => Wandbild von Pierre Galic
                            [post_excerpt] => 
                            [post_status] => publish
                            [comment_status] => closed
                            [ping_status] => closed
                            [post_password] => 
                            [post_name] => wandbild-von-pierre-galic
                            [to_ping] => 
                            [pinged] => 
                            [post_modified] => 2017-01-19 15:09:26
                            [post_modified_gmt] => 2017-01-19 14:09:26
                            [post_content_filtered] => 
                            [post_parent] => 0
                            [guid] => https://40grad-urbanart.de/?post_type=aktionen&p=1589
                            [menu_order] => 0
                            [post_type] => aktionen
                            [post_mime_type] => 
                            [comment_count] => 0
                            [filter] => raw
                        )

                )

            [museum] => 0
            [events] => 0
            [active_event] => 
        )

    [15] => Array
        (
            [titel] => Erkrather Str. 18, Düsseldorfer Drogenhilfe
            [koordinaten] => 51.223922, 6.797820
            [marker_id] => 2488
            [permalink] => https://40grad-urbanart.de/orte/erkrather-str-18-duesseldorfer-drogenhilfe/
            [thumbnail] => https://40grad-urbanart.de/wp-content/uploads/2016/12/13_IMG_3194-293x220.jpg
            [actions] => Array
                (
                    [0] => WP_Post Object
                        (
                            [ID] => 2524
                            [post_author] => 7
                            [post_date] => 2016-12-20 15:00:47
                            [post_date_gmt] => 2016-12-20 14:00:47
                            [post_content] => 40grad urbanart ist auch 2016 aktiv,  4 Künstlern verschönern und gestalten den Eingang und Innenhof der Drogenhilfe 

Düsseldorf

 auf der Erkratherstr. 18, um den Ort für die Menschen attraktiver zu machen.

MaJo brothers, M05k, Forrest 1330
                            [post_title] => 4 Wandbilder am Eingang zur Drogenhilfe Düsseldorf, 40grad 2016
                            [post_excerpt] => 
                            [post_status] => publish
                            [comment_status] => closed
                            [ping_status] => closed
                            [post_password] => 
                            [post_name] => 4-wandbilder-am-eingang-zur-drogenhilfe-duesseldorf-40grad-2016
                            [to_ping] => 
                            [pinged] => 
                            [post_modified] => 2017-01-19 14:21:47
                            [post_modified_gmt] => 2017-01-19 13:21:47
                            [post_content_filtered] => 
                            [post_parent] => 0
                            [guid] => https://40grad-urbanart.de/?post_type=aktionen&p=2524
                            [menu_order] => 0
                            [post_type] => aktionen
                            [post_mime_type] => 
                            [comment_count] => 0
                            [filter] => raw
                        )

                )

            [museum] => 0
            [events] => 0
            [active_event] => 
        )

    [16] => Array
        (
            [titel] => Erkrather Straße 206
            [koordinaten] => 51.219935, 6.812275
            [marker_id] => 103
            [permalink] => https://40grad-urbanart.de/orte/erkrather-strasse-206/
            [thumbnail] => https://40grad-urbanart.de/wp-content/uploads/2015/07/ortic-04-330x220.jpg
            [actions] => Array
                (
                    [0] => WP_Post Object
                        (
                            [ID] => 1739
                            [post_author] => 7
                            [post_date] => 2016-09-16 16:31:27
                            [post_date_gmt] => 2016-09-16 14:31:27
                            [post_content] => "Since Roads are the largest Open-Air Museum in the World" - Orticanoodles

Wally und Alita aus Italien bilden das Kunstlerduo Orticanoodles. Bereits 2004 startete das Paar die ersten Aktionen auf den Straflen Italiens. Die Schablonenkunst ist für sie eine neue Form des Graffitis. Die Werke des Duos sind meist Portraits inspirierender Personen wie Andy Warhol, Charles Bukowski oder Pablo Picasso, aber auch ironi­sche Anlehnungen an die Werke andere Künstler wie z.B. Obey. Dabei ist die Darstellungsweise ihrer Werke sogar auf riesigen Wanden einzigartig fein und verspielt. Über sich selbst sagen sie, dass ihre Bilder mal aus Inspiration und mal aus Kritik entstehen. In den aktuellsten Arbeiten experimentieren sie mit "stencil on stencil"-Techniken und Typographie. Die Orticanoodles haben zwar auf der ganzen Welt Ausstellungen, bleiben ihrem Open-Air Museum, der Straße, jedoch treu.
                            [post_title] => Wandbild "wer nicht denken will fliegt raus" von Orticanoodles zum 40grad urbanart Festival 2013
                            [post_excerpt] => 
                            [post_status] => publish
                            [comment_status] => closed
                            [ping_status] => closed
                            [post_password] => 
                            [post_name] => wandbild-wer-nicht-denken-will-fliegt-raus-von-orticanoodles-zum-40grad-urbanart-festival-2013
                            [to_ping] => 
                            [pinged] => 
                            [post_modified] => 2017-01-19 15:07:18
                            [post_modified_gmt] => 2017-01-19 14:07:18
                            [post_content_filtered] => 
                            [post_parent] => 0
                            [guid] => https://40grad-urbanart.de/?post_type=aktionen&p=1739
                            [menu_order] => 0
                            [post_type] => aktionen
                            [post_mime_type] => 
                            [comment_count] => 0
                            [filter] => raw
                        )

                )

            [museum] => 0
            [events] => 0
            [active_event] => 
        )

    [17] => Array
        (
            [titel] => Fleher Straße 145
            [koordinaten] => 51.198791, 6.767598
            [marker_id] => 1720
            [permalink] => https://40grad-urbanart.de/orte/fleher-strasse-145/
            [thumbnail] => https://40grad-urbanart.de/wp-content/uploads/2016/09/06-920A-311x220.jpg
            [actions] => Array
                (
                    [0] => WP_Post Object
                        (
                            [ID] => 1722
                            [post_author] => 7
                            [post_date] => 2016-09-16 15:49:18
                            [post_date_gmt] => 2016-09-16 13:49:18
                            [post_content] => Mittlerweile lebt jedes fünfte Kind in unserem reichen Land in Armut, alleine in Düsseldorf 15.000 Kinder und keiner der Politiker wird das ernsthaft verändern, eher wird die Armut zunehmen, hier und weltweit. Wie immer sind die Kinder die Leidtragenden, Armut und ein von vielen Seiten attestiertes ungerechtes Bildungssystem tragen zum Abstieg bei. Ein Skandal der viel zu wenig Öffentlichkeit hat.
Das Wandbild sorgt jetzt schon für Diskussionen, was auch beabsichtigt ist.

Zur Verfügung gestellt und finanziert wurde die Wand freundlicher Weise von dem Hausbesitzer Herrn Spies.
                            [post_title] => Wandbild  "Düsseldorf: Reich und Schön" von Klaus Klinger, farbfieber
                            [post_excerpt] => 
                            [post_status] => publish
                            [comment_status] => closed
                            [ping_status] => closed
                            [post_password] => 
                            [post_name] => wandbild-duesseldorf-reich-und-schoen-von-klaus-klinger-farbfieber
                            [to_ping] => 
                            [pinged] => 
                            [post_modified] => 2016-12-15 22:25:05
                            [post_modified_gmt] => 2016-12-15 21:25:05
                            [post_content_filtered] => 
                            [post_parent] => 0
                            [guid] => https://40grad-urbanart.de/?post_type=aktionen&p=1722
                            [menu_order] => 0
                            [post_type] => aktionen
                            [post_mime_type] => 
                            [comment_count] => 0
                            [filter] => raw
                        )

                )

            [museum] => 0
            [events] => 0
            [active_event] => 
        )

    [18] => Array
        (
            [titel] => Franziskaner Kloster, Oststraße 57
            [koordinaten] => 51.224454, 6.788103
            [marker_id] => 2642
            [permalink] => https://40grad-urbanart.de/orte/franziskaner-kloster-oststrasse-57/
            [thumbnail] => https://40grad-urbanart.de/wp-content/uploads/2017/01/319A-236x220.jpg
            [actions] => Array
                (
                    [0] => WP_Post Object
                        (
                            [ID] => 2644
                            [post_author] => 7
                            [post_date] => 2017-01-12 12:33:34
                            [post_date_gmt] => 2017-01-12 11:33:34
                            [post_content] => Der Kontakt zu den Franziskanermönchen kam über das Straßenmagazin für Obdachlose "fifty-fifty" zustande. Im Gegensatz zu den früheren Kirchenmalereien war es ein Novum für die Mönche mit einem Wandbild außen am Kloster in die Öffentlichkeit zu gehen. Das Bild entstand im Rahmen des von Farbfieber organisierten weltweiten Wandmalprojektes, MURAL-GLOBAL.

1997 "Symbiose XXI"
Düsseldorf, Franziskanerkloster, Oststr.57
Künstler: Juan Garcia Milo, Cuba und Klaus Klinger
                            [post_title] => Wandbild "Symbiose XXI" von Juan Garcia Milo und Klaus Klinger, 1997
                            [post_excerpt] => 
                            [post_status] => publish
                            [comment_status] => closed
                            [ping_status] => closed
                            [post_password] => 
                            [post_name] => wandbild-symbiose-xxi-von-juan-garcia-milo-und-klaus-klinger-1997
                            [to_ping] => 
                            [pinged] => 
                            [post_modified] => 2017-01-12 12:33:34
                            [post_modified_gmt] => 2017-01-12 11:33:34
                            [post_content_filtered] => 
                            [post_parent] => 0
                            [guid] => https://40grad-urbanart.de/?post_type=aktionen&p=2644
                            [menu_order] => 0
                            [post_type] => aktionen
                            [post_mime_type] => 
                            [comment_count] => 0
                            [filter] => raw
                        )

                )

            [museum] => 0
            [events] => 0
            [active_event] => 
        )

    [19] => Array
        (
            [titel] => Fürstenplatz
            [koordinaten] => 51.213311, 6.785675
            [marker_id] => 1743
            [permalink] => https://40grad-urbanart.de/orte/fuerstenplatz/
            [thumbnail] => https://40grad-urbanart.de/wp-content/uploads/2015/07/40grad_jana_js_mg_078-147x220.jpg
            [actions] => Array
                (
                    [0] => WP_Post Object
                        (
                            [ID] => 1744
                            [post_author] => 7
                            [post_date] => 2016-09-19 15:34:51
                            [post_date_gmt] => 2016-09-19 13:34:51
                            [post_content] => 

"Für uns ist nicht immer nur das Bild das wir darstellen wichtig, sondern auch die ganze Geschichte und die Erinnerungen dahinter."


Jana & Js kommen aus Österreich und Frankreich und arbeiten seit 9 Jahren zusammen. Inspiriert von der Stadt und deren Architektur im Wandel der Zeit, sowie von den Bewohnern und den Betrachtern, sprühen Jana & Js urbane Landschaften, Details von Architekturen und Portraits (oft fotografierende Personen) mit einem Spiel von Reflexionen und Transparenzen. Die beiden Künstler, die zum Umfeld des Artist Ouvrir Kollektivs ge­hören, wurden in zahlreichen Publikationen, unter anderem dem Graffiti Art Magazine, Paris Pochoir, Graffiti Espanol & Stencil History X, präsentiert.
                            [post_title] => Jana & Js auf dem Fürstenplatz zum 40grad urbanart Festival 2013
                            [post_excerpt] => 
                            [post_status] => publish
                            [comment_status] => closed
                            [ping_status] => closed
                            [post_password] => 
                            [post_name] => jana-js-auf-dem-fuerstenplatz-zum-40grad-urbanart-festival-2013
                            [to_ping] => 
                            [pinged] => 
                            [post_modified] => 2017-01-19 14:55:38
                            [post_modified_gmt] => 2017-01-19 13:55:38
                            [post_content_filtered] => 
                            [post_parent] => 0
                            [guid] => https://40grad-urbanart.de/?post_type=aktionen&p=1744
                            [menu_order] => 0
                            [post_type] => aktionen
                            [post_mime_type] => 
                            [comment_count] => 0
                            [filter] => raw
                        )

                )

            [museum] => 0
            [events] => 0
            [active_event] => 
        )

    [20] => Array
        (
            [titel] => Fürstenwall 210 – Atelier farbfieber
            [koordinaten] => 51.214229, 6.781923
            [marker_id] => 1702
            [permalink] => https://40grad-urbanart.de/orte/fuerstenwall-210-atelier-farbfieber/
            [thumbnail] => https://40grad-urbanart.de/wp-content/uploads/2016/09/02-1075A-330x220.jpg
            [actions] => Array
                (
                    [0] => WP_Post Object
                        (
                            [ID] => 1704
                            [post_author] => 7
                            [post_date] => 2016-09-16 13:35:16
                            [post_date_gmt] => 2016-09-16 11:35:16
                            [post_content] => Das Atelier farbfieber wurde jetzt endlich auch gestaltet. Es ist eine "open end" Arbeit, Gastkünstler und Freunde können die Wände immer weitergestalten. Angefangen haben die beiden Künstler aus Gdansk, Piotr Szwabe und Ryszard Niedzielski im Dezember 2012

2013 Atelier Farbfieber, Fürstenwall 210
Künstler: Piotr Szwabe, Ryszard Niedzielski, Gdansk, Polen
Klaus Klinger, Marc Henig, Miroh und viele andere
                            [post_title] => Gestaltung des Atelier farbfieber
                            [post_excerpt] => 
                            [post_status] => publish
                            [comment_status] => closed
                            [ping_status] => closed
                            [post_password] => 
                            [post_name] => gestaltung-des-atelier-farbfieber
                            [to_ping] => 
                            [pinged] => 
                            [post_modified] => 2017-01-19 14:54:36
                            [post_modified_gmt] => 2017-01-19 13:54:36
                            [post_content_filtered] => 
                            [post_parent] => 0
                            [guid] => https://40grad-urbanart.de/?post_type=aktionen&p=1704
                            [menu_order] => 0
                            [post_type] => aktionen
                            [post_mime_type] => 
                            [comment_count] => 0
                            [filter] => raw
                        )

                )

            [museum] => 0
            [events] => 0
            [active_event] => 
        )

    [21] => Array
        (
            [titel] => Galerie Töchter & Söhne
            [koordinaten] => 51.164135, 6.840038
            [marker_id] => 874
            [permalink] => https://40grad-urbanart.de/orte/galerie-toechter-soehne/
            [thumbnail] => https://40grad-urbanart.de/wp-content/uploads/2015/08/Anne-Domdey-2-293x220.jpg
            [actions] => Array
                (
                    [0] => WP_Post Object
                        (
                            [ID] => 2348
                            [post_author] => 7
                            [post_date] => 2016-12-12 20:21:55
                            [post_date_gmt] => 2016-12-12 19:21:55
                            [post_content] => 
                            [post_title] => Galerie Töchter & Söhne
                            [post_excerpt] => 
                            [post_status] => publish
                            [comment_status] => closed
                            [ping_status] => closed
                            [post_password] => 
                            [post_name] => galerie-toechter-soehne
                            [to_ping] => 
                            [pinged] => 
                            [post_modified] => 2017-01-19 14:54:03
                            [post_modified_gmt] => 2017-01-19 13:54:03
                            [post_content_filtered] => 
                            [post_parent] => 0
                            [guid] => https://40grad-urbanart.de/?post_type=aktionen&p=2348
                            [menu_order] => 0
                            [post_type] => aktionen
                            [post_mime_type] => 
                            [comment_count] => 0
                            [filter] => raw
                        )

                )

            [museum] => 0
            [events] => 0
            [active_event] => 
        )

    [22] => Array
        (
            [titel] => Gartenhaus Lessingplatz
            [koordinaten] => 51.212640, 6.793676
            [marker_id] => 2645
            [permalink] => https://40grad-urbanart.de/orte/gartenhaus-lessingplatz/
            [thumbnail] => https://40grad-urbanart.de/wp-content/uploads/2017/01/1101A-357x220.jpg
            [actions] => Array
                (
                    [0] => WP_Post Object
                        (
                            [ID] => 2647
                            [post_author] => 7
                            [post_date] => 2017-01-12 12:52:19
                            [post_date_gmt] => 2017-01-12 11:52:19
                            [post_content] => Im Labyrinth verliert man sich nicht, man sucht und findet sich.
Gestaltung des Gartenhäuschen mit Zeichnungen von Gartenlabyrinthen aus dem 17. und 20.Jahrhundert. Die Stadt Düsseldorf hat das Gebäude saniert und dort einen Raum als Treffpunkt für die Nachbarn und Bürger ausgebaut.

2014 Gartenhaus Lessingplatz
Künstler: Klaus Klinger und Tuha
                            [post_title] => Gestaltung des Gartenhaus Lessingplatz von Klaus Klinger und Tuha, 2014
                            [post_excerpt] => 
                            [post_status] => publish
                            [comment_status] => closed
                            [ping_status] => closed
                            [post_password] => 
                            [post_name] => gestaltung-des-gartenhaus-lessingplatz-von-klaus-klinger-und-tuha-2014
                            [to_ping] => 
                            [pinged] => 
                            [post_modified] => 2017-01-12 12:52:34
                            [post_modified_gmt] => 2017-01-12 11:52:34
                            [post_content_filtered] => 
                            [post_parent] => 0
                            [guid] => https://40grad-urbanart.de/?post_type=aktionen&p=2647
                            [menu_order] => 0
                            [post_type] => aktionen
                            [post_mime_type] => 
                            [comment_count] => 0
                            [filter] => raw
                        )

                )

            [museum] => 0
            [events] => 0
            [active_event] => 
        )

    [23] => Array
        (
            [titel] => Gerresheimerstraße 69
            [koordinaten] => 51.226657, 6.798133
            [marker_id] => 1747
            [permalink] => https://40grad-urbanart.de/orte/gerresheimerstrasse-69/
            [thumbnail] => https://40grad-urbanart.de/wp-content/uploads/2016/09/10-434A-411x220.jpg
            [actions] => Array
                (
                    [0] => WP_Post Object
                        (
                            [ID] => 1749
                            [post_author] => 7
                            [post_date] => 2016-09-19 16:28:06
                            [post_date_gmt] => 2016-09-19 14:28:06
                            [post_content] => Ein "extragroßes Geburtstagsgeschenk" hat sich die Kirchengemeinde St. Elisabeth und Vinzenz zum 800. Geburtstag ihrer Schutzpatronin gemacht: Die Künstlergruppe 'Farbfieber' hat in den ersten Wochen des Jahres die Fassade der Pfarrhäuser Gerresheimer Straße 69 und Vinzenzplatz 1 mit überdimensionalen Gesichtern gestaltet, so dass neben der Elisabethkirche nun insbesondere für die Zugreisenden ein neuer Blickfang in Flingern entstanden ist.

Eine besondere Herausforderung für die Künstler von 'Farbfieber' waren die vielen Fenster der Pfarrhäuser, die Gestaltung war dadurch schwieriger als auf anderen Hauswänden, die Farbfieber in Flingern bereits gestaltet hat.


"Eine Wand bekommt Gesichter"
Düsseldorf, Gerresheimerstr. 69, neben der Elisabethkirche
Künstler: Klaus Klinger
Mitarbeiter: Marc Hennig,Paola Ramirez, Benni Noak
Marq Eichberger und Elisa Tontsch


                            [post_title] => Wandbild "Eine Wand bekommt Gesichter" von farbfieber, 2013
                            [post_excerpt] => 
                            [post_status] => publish
                            [comment_status] => closed
                            [ping_status] => closed
                            [post_password] => 
                            [post_name] => wandbild-eine-wand-bekommt-gesichter-farbfieber-2013
                            [to_ping] => 
                            [pinged] => 
                            [post_modified] => 2017-01-19 15:03:20
                            [post_modified_gmt] => 2017-01-19 14:03:20
                            [post_content_filtered] => 
                            [post_parent] => 0
                            [guid] => https://40grad-urbanart.de/?post_type=aktionen&p=1749
                            [menu_order] => 0
                            [post_type] => aktionen
                            [post_mime_type] => 
                            [comment_count] => 0
                            [filter] => raw
                        )

                )

            [museum] => 0
            [events] => 0
            [active_event] => 
        )

    [24] => Array
        (
            [titel] => Gustaf-Gründgens-Platz
            [koordinaten] => 51.228274, 6.783325
            [marker_id] => 400
            [permalink] => https://40grad-urbanart.de/orte/gustaf-gruendgens-platz/
            [thumbnail] => https://40grad-urbanart.de/wp-content/uploads/2015/08/DSCF5419_woo_24.08.1-330x220.jpg
            [actions] => 0
            [museum] => Array
                (
                    [0] => WP_Post Object
                        (
                            [ID] => 2478
                            [post_author] => 7
                            [post_date] => 2016-12-16 16:29:39
                            [post_date_gmt] => 2016-12-16 15:29:39
                            [post_content] => Zwei leerstehende Bürogebäude am Gustaf-Gründgends Platz wurden im Rahmen des 40grad-urbanart Festivals 2015 komplett gestaltet.
                            [post_title] => 40grad Festival 2015 - die Häuser
                            [post_excerpt] => 
                            [post_status] => publish
                            [comment_status] => closed
                            [ping_status] => closed
                            [post_password] => 
                            [post_name] => 40grad-festival-2015-die-haeuser
                            [to_ping] => 
                            [pinged] => 
                            [post_modified] => 2017-02-21 19:44:28
                            [post_modified_gmt] => 2017-02-21 18:44:28
                            [post_content_filtered] => 
                            [post_parent] => 0
                            [guid] => https://40grad-urbanart.de/?post_type=aktionen&p=2478
                            [menu_order] => 0
                            [post_type] => aktionen
                            [post_mime_type] => 
                            [comment_count] => 0
                            [filter] => raw
                        )

                    [1] => WP_Post Object
                        (
                            [ID] => 2280
                            [post_author] => 7
                            [post_date] => 2016-12-11 14:02:57
                            [post_date_gmt] => 2016-12-11 13:02:57
                            [post_content] => 






Für das ehemalige Quelle Ladenlokal, das mit der #LEGLOS-Werkstatt als Aktionsraum für Kinder und Jugendliche dienen sollte, bekamen wir den Schlüssel leider erst einen Tag vor dem Start. Dort bot sich eine riesige Rümpelkammer für Bleche und Deckenverkleidungen. In einer anstrengenden Nachtaktion mit end- losen Transporten wurde jedoch auch dieses Ladenlokal zum gemütlichen und bunten Treffpunkt für Jung und Alt hergerichtet.














Hier wurde Raum geschaffen, in dem sich Kinder und Jugendliche austoben und nach Lust und Laune kreativ werden konnten.

Diese Werkstatt wurde mit allerlei Spiel- und Bastelmaterialien ausgestattet. Werk- und Arbeitstische wurden aufgestellt. Neben der Ausstattung und den Angeboten des Kinderclub Kiefernstraße boten hier nun Kinder- und Jugendfreizeiteinrichtungen und weitere jugendkulturelle Anbieter täglich wechselnde Workshops und Mitmachge- legenheiten. Diese waren für alle offen und frei zugänglich. Produzierte Werke konnten entweder mit nach Hause genommen oder in der #LEGLOS- Werkstatt präsentiert werden. Täglich wurde es hier bunter und voller.








Eltern kamen mit ihren Kindern zufällig während des Einkaufsbummels vorbei und blieben den ganzen Tag. Freizeiteinrich- tungen kamen als geschlossene Gruppen, andere kamen alleine und gezielt zu spezi- ellen Workshops. Eine bunte Mischung von kleinen Künstlern, engagierten Jugendlichen, neugierigen Erwachsenen und motivierten Pädagogen belebte den Raum – und täglich wurden es mehr. Schon bald wurde es eng und gemütlich.







                            [post_title] => Die #LEGLOS - Werkstatt zum 40grad Festival 2015
                            [post_excerpt] => 
                            [post_status] => publish
                            [comment_status] => closed
                            [ping_status] => closed
                            [post_password] => 
                            [post_name] => die-leglos-werkstatt-zum-40grad-festival-2015
                            [to_ping] => 
                            [pinged] => 
                            [post_modified] => 2016-12-11 14:02:57
                            [post_modified_gmt] => 2016-12-11 13:02:57
                            [post_content_filtered] => 
                            [post_parent] => 0
                            [guid] => https://40grad-urbanart.de/?post_type=aktionen&p=2280
                            [menu_order] => 0
                            [post_type] => aktionen
                            [post_mime_type] => 
                            [comment_count] => 0
                            [filter] => raw
                        )

                    [2] => WP_Post Object
                        (
                            [ID] => 1202
                            [post_author] => 7
                            [post_date] => 2015-08-24 15:20:22
                            [post_date_gmt] => 2015-08-24 13:20:22
                            [post_content] => 
                            [post_title] => Mitmachaktion mit der JC Academy: Street- und Breakdance
                            [post_excerpt] => 
                            [post_status] => publish
                            [comment_status] => closed
                            [ping_status] => closed
                            [post_password] => 
                            [post_name] => mitmachaktion-mit-der-jc-academy-street-und-breakdance
                            [to_ping] => 
                            [pinged] => 
                            [post_modified] => 2016-12-11 13:41:02
                            [post_modified_gmt] => 2016-12-11 12:41:02
                            [post_content_filtered] => 
                            [post_parent] => 0
                            [guid] => https://40grad-urbanart.de/?post_type=galerie&p=1202
                            [menu_order] => 0
                            [post_type] => aktionen
                            [post_mime_type] => 
                            [comment_count] => 0
                            [filter] => raw
                        )

                    [3] => WP_Post Object
                        (
                            [ID] => 1167
                            [post_author] => 7
                            [post_date] => 2015-08-24 15:08:07
                            [post_date_gmt] => 2015-08-24 13:08:07
                            [post_content] => 









Der Schauspielhausplatz ist seit mehr als 40 Jahren einer der ödesten, unbelebten Plätze im Zentrum von Düsseldorf. Angelehnt an das von Michelangelo im 16. Jahrhundert entworfene Ornament auf der Piazza del Campidoglio in Rom entstand ein 1200 qm großes Bodenbild in einer modernen Version, um die Diskussion um heutige vernachlässigte Plätze anzustoßen. Beteiligt waren Künstler aus aller Welt. Für 10 Tage erwachte der Platz zum Leben und war Anziehungspunkt für Düsseldorfer Bürgerinnen und Bürger, Touristen und Gäste der Stadt.










                            [post_title] => 40Grad Platz
                            [post_excerpt] => 
                            [post_status] => publish
                            [comment_status] => closed
                            [ping_status] => closed
                            [post_password] => 
                            [post_name] => 40-grad-platz
                            [to_ping] => 
                            [pinged] => 
                            [post_modified] => 2020-01-17 17:56:33
                            [post_modified_gmt] => 2020-01-17 16:56:33
                            [post_content_filtered] => 
                            [post_parent] => 0
                            [guid] => https://40grad-urbanart.de/?post_type=galerie&p=1167
                            [menu_order] => 0
                            [post_type] => aktionen
                            [post_mime_type] => 
                            [comment_count] => 0
                            [filter] => raw
                        )

                    [4] => WP_Post Object
                        (
                            [ID] => 259
                            [post_author] => 1
                            [post_date] => 2015-07-26 12:52:02
                            [post_date_gmt] => 2015-07-26 10:52:02
                            [post_content] => Das ehemalige Weingarten Ladenlokal wurde zum 40Grad-Labor umfunktioniert. Ein Raum für künstlerische Aktionen, Empfang und Information, Materialausgabe aber auch Diskussionsforum, Partyraum, Tanzfläche, Kino und vieles mehr.
                            [post_title] => 40Grad Labor
                            [post_excerpt] => 
                            [post_status] => publish
                            [comment_status] => closed
                            [ping_status] => closed
                            [post_password] => 
                            [post_name] => 40grad-labor
                            [to_ping] => 
                            [pinged] => 
                            [post_modified] => 2016-12-11 13:40:16
                            [post_modified_gmt] => 2016-12-11 12:40:16
                            [post_content_filtered] => 
                            [post_parent] => 0
                            [guid] => http://40grad-urbanart.de/?post_type=galerie&p=259
                            [menu_order] => 0
                            [post_type] => aktionen
                            [post_mime_type] => 
                            [comment_count] => 0
                            [filter] => raw
                        )

                )

            [events] => 0
            [active_event] => 
        )

    [25] => Array
        (
            [titel] => Haus der Jugend, Lacombletstraße 10
            [koordinaten] => 51.247921, 6.799840
            [marker_id] => 2639
            [permalink] => https://40grad-urbanart.de/orte/haus-der-jugend-lacombletstrasse-10/
            [thumbnail] => https://40grad-urbanart.de/wp-content/uploads/2017/01/292A-361x220.jpg
            [actions] => Array
                (
                    [0] => WP_Post Object
                        (
                            [ID] => 2641
                            [post_author] => 7
                            [post_date] => 2017-01-12 12:23:32
                            [post_date_gmt] => 2017-01-12 11:23:32
                            [post_content] => Gemeinschaftsarbeit von KünstlerInnen aus Afrika - Lateinamerika – Europa. KünstlerInnen, die zum ersten Mal zusammenkamen, sich in vier Sprachen verständigen mußten und trotz der Kürze der Zeit es schafften die verschiedenen Ideen, die aus den Diskussionen über Agenda 21 und die Welt entstanden und die unterschiedlichen Malstile in einen Entwurf einzubringen.
Das Bild entstand im Rahmen des von Farbfieber organisierten weltweiten Wandmalprojektes, MURAL-GLOBAL.

1999 "Natur - Kultur - Life-Style"
Düsseldorf, Lacombletstr. 10, Haus der Jugend.
Charles Bhebe, Zimbabwe, Eunice Duarte, Brasil
Edierki José da Silva, Brasil,
Till Mache, Klaus Klinger, Düsseldorf
                            [post_title] => Wandbild "Natur - Kultur - Life-Style", Haus der Jugend, 1999
                            [post_excerpt] => 
                            [post_status] => publish
                            [comment_status] => closed
                            [ping_status] => closed
                            [post_password] => 
                            [post_name] => wandbild-natur-kultur-life-style-haus-der-jugend-1999
                            [to_ping] => 
                            [pinged] => 
                            [post_modified] => 2017-01-12 12:23:32
                            [post_modified_gmt] => 2017-01-12 11:23:32
                            [post_content_filtered] => 
                            [post_parent] => 0
                            [guid] => https://40grad-urbanart.de/?post_type=aktionen&p=2641
                            [menu_order] => 0
                            [post_type] => aktionen
                            [post_mime_type] => 
                            [comment_count] => 0
                            [filter] => raw
                        )

                )

            [museum] => 0
            [events] => 0
            [active_event] => 
        )

    [26] => Array
        (
            [titel] => Heinrichstraße 20
            [koordinaten] => 51.244168, 6.811808
            [marker_id] => 114
            [permalink] => https://40grad-urbanart.de/orte/heinrichstrasse-20/
            [thumbnail] => https://40grad-urbanart.de/wp-content/uploads/2015/07/IMG_6758-330x220.jpg
            [actions] => Array
                (
                    [0] => WP_Post Object
                        (
                            [ID] => 2253
                            [post_author] => 7
                            [post_date] => 2016-12-10 18:57:16
                            [post_date_gmt] => 2016-12-10 17:57:16
                            [post_content] => 
                            [post_title] => Wandmalaktion mit Jura, Lass, Mobil zum 40grad Festival, 2013
                            [post_excerpt] => 
                            [post_status] => publish
                            [comment_status] => closed
                            [ping_status] => closed
                            [post_password] => 
                            [post_name] => wandmalaktion-mit-jura-lash-mobil-zum-40grad-festival-2013
                            [to_ping] => 
                            [pinged] => 
                            [post_modified] => 2016-12-10 19:59:37
                            [post_modified_gmt] => 2016-12-10 18:59:37
                            [post_content_filtered] => 
                            [post_parent] => 0
                            [guid] => https://40grad-urbanart.de/?post_type=aktionen&p=2253
                            [menu_order] => 0
                            [post_type] => aktionen
                            [post_mime_type] => 
                            [comment_count] => 0
                            [filter] => raw
                        )

                )

            [museum] => 0
            [events] => 0
            [active_event] => 
        )

    [27] => Array
        (
            [titel] => Hellweg 23
            [koordinaten] => 51.230144, 6.822424
            [marker_id] => 1751
            [permalink] => https://40grad-urbanart.de/orte/hellweg-23/
            [thumbnail] => https://40grad-urbanart.de/wp-content/uploads/2016/09/12-299A-174x220.jpg
            [actions] => Array
                (
                    [0] => WP_Post Object
                        (
                            [ID] => 1753
                            [post_author] => 7
                            [post_date] => 2016-09-19 16:36:43
                            [post_date_gmt] => 2016-09-19 14:36:43
                            [post_content] => Otto Schily der damals als RAF-Anwalt Überwachung und Belauschung unterlag, hat die Rolle als Innenminister jetzt selbst übernommen und den großen Lauschangriff gestartet.
Eingeweiht wurde das Wandbild passender Weise zum 100jährigen Geburtstag von George Orwell.


"Ottos Ohr"
Düsseldorf, Hellweg
2003 wurde das Wandbild von 1979 erneuert,
neuer Kandidat für Überwachung und Kontrolle: Otto Schily
Künstler: Klaus Klinger
Mitarbeiter: Paola Ramirez, Marq Eichberger


                            [post_title] => Wandbild "Ottos Ohr" von Klaus Klinger
                            [post_excerpt] => 
                            [post_status] => publish
                            [comment_status] => closed
                            [ping_status] => closed
                            [post_password] => 
                            [post_name] => wandbild-ottos-ohr-von-klaus-klinger
                            [to_ping] => 
                            [pinged] => 
                            [post_modified] => 2016-09-19 16:38:18
                            [post_modified_gmt] => 2016-09-19 14:38:18
                            [post_content_filtered] => 
                            [post_parent] => 0
                            [guid] => https://40grad-urbanart.de/?post_type=aktionen&p=1753
                            [menu_order] => 0
                            [post_type] => aktionen
                            [post_mime_type] => 
                            [comment_count] => 0
                            [filter] => raw
                        )

                )

            [museum] => 0
            [events] => 0
            [active_event] => 
        )

    [28] => Array
        (
            [titel] => Hellweg 36
            [koordinaten] => 51.229941, 6.823691
            [marker_id] => 1717
            [permalink] => https://40grad-urbanart.de/orte/hellweg-36/
            [thumbnail] => https://40grad-urbanart.de/wp-content/uploads/2016/09/05-977A-189x220.jpg
            [actions] => Array
                (
                    [0] => WP_Post Object
                        (
                            [ID] => 1719
                            [post_author] => 7
                            [post_date] => 2016-09-16 15:27:20
                            [post_date_gmt] => 2016-09-16 13:27:20
                            [post_content] => 

2010 "Auge"
Düsseldorf, Hellweg/Bruchstraße
3.Fassung eines der ältesten Wandbilder Düsseldorfs
Künstler: Klaus Klinger




1980 wurde das Auge am Hellweg von der damaligen Wandmalgruppe zum ersten Mal gemalt. Aufgrund Schäden an der Wand und einer neuen Wärmedämmung entstand jetzt die 3.Fassung. Entsprechend der Jahre wurde das Auge immer älter.


                            [post_title] => Wandbild "Auge" von Klaus Klinger
                            [post_excerpt] => 
                            [post_status] => publish
                            [comment_status] => closed
                            [ping_status] => closed
                            [post_password] => 
                            [post_name] => wandbild-auge-von-klaus-klinger
                            [to_ping] => 
                            [pinged] => 
                            [post_modified] => 2016-12-15 22:24:04
                            [post_modified_gmt] => 2016-12-15 21:24:04
                            [post_content_filtered] => 
                            [post_parent] => 0
                            [guid] => https://40grad-urbanart.de/?post_type=aktionen&p=1719
                            [menu_order] => 0
                            [post_type] => aktionen
                            [post_mime_type] => 
                            [comment_count] => 0
                            [filter] => raw
                        )

                )

            [museum] => 0
            [events] => 0
            [active_event] => 
        )

    [29] => Array
        (
            [titel] => Helmholtzstraße 17-21
            [koordinaten] => 51.215970, 6.788621
            [marker_id] => 2482
            [permalink] => https://40grad-urbanart.de/orte/helmholtzstrasse-17-21/
            [thumbnail] => https://40grad-urbanart.de/wp-content/uploads/2016/12/DSCF4480-402x220.jpg
            [actions] => Array
                (
                    [0] => WP_Post Object
                        (
                            [ID] => 2484
                            [post_author] => 7
                            [post_date] => 2016-12-19 17:03:01
                            [post_date_gmt] => 2016-12-19 16:03:01
                            [post_content] => Folgende Künstler haben an der Wandmalaktion 'auf die zwölf', organisiert von Romina Hammermann und Sebastian Busch teilgenommen:

Kj263, Semor, Pout, Ole von Oepen, Indy, L.E.T., The Top Notch, Team Endzeit, Mero, Topic, Magic, Mbongane, Reisig & Rau

aufdiezwölf.de
                            [post_title] => Helmholzstraße "auf die zwölf"
                            [post_excerpt] => 
                            [post_status] => publish
                            [comment_status] => closed
                            [ping_status] => closed
                            [post_password] => 
                            [post_name] => helmholzstrasse-auf-die-zwoelf
                            [to_ping] => 
                            [pinged] => 
                            [post_modified] => 2016-12-19 17:03:01
                            [post_modified_gmt] => 2016-12-19 16:03:01
                            [post_content_filtered] => 
                            [post_parent] => 0
                            [guid] => https://40grad-urbanart.de/?post_type=aktionen&p=2484
                            [menu_order] => 0
                            [post_type] => aktionen
                            [post_mime_type] => 
                            [comment_count] => 0
                            [filter] => raw
                        )

                )

            [museum] => 0
            [events] => 0
            [active_event] => 
        )

    [30] => Array
        (
            [titel] => Hermannplatz, Düsseldorf Flingern
            [koordinaten] => 51.228173, 6.807905
            [marker_id] => 2659
            [permalink] => https://40grad-urbanart.de/orte/hermannplatz-duesseldorf-flingern/
            [thumbnail] => https://40grad-urbanart.de/wp-content/uploads/2017/01/os-geminos-Brasil-Hermannplatz-293x220.jpg
            [actions] => 0
            [museum] => 0
            [events] => 0
            [active_event] => 
        )

    [31] => Array
        (
            [titel] => Herzogstraße 83, Durst Bunker
            [koordinaten] => 51.215778, 6.783976
            [marker_id] => 2583
            [permalink] => https://40grad-urbanart.de/orte/herzogstrasse-83-durst-bunker/
            [thumbnail] => https://40grad-urbanart.de/wp-content/uploads/2017/01/15895318_793361480812911_8926535250902010809_n-293x220.jpg
            [actions] => Array
                (
                    [0] => WP_Post Object
                        (
                            [ID] => 2585
                            [post_author] => 7
                            [post_date] => 2017-01-09 12:36:13
                            [post_date_gmt] => 2017-01-09 11:36:13
                            [post_content] => 
                            [post_title] => Wandbild von Miroh gefördert von 40grad, 2016
                            [post_excerpt] => 
                            [post_status] => publish
                            [comment_status] => closed
                            [ping_status] => closed
                            [post_password] => 
                            [post_name] => wandbild-von-miroh-gefoerdert-von-40grad-2016
                            [to_ping] => 
                            [pinged] => 
                            [post_modified] => 2017-01-09 12:36:13
                            [post_modified_gmt] => 2017-01-09 11:36:13
                            [post_content_filtered] => 
                            [post_parent] => 0
                            [guid] => https://40grad-urbanart.de/?post_type=aktionen&p=2585
                            [menu_order] => 0
                            [post_type] => aktionen
                            [post_mime_type] => 
                            [comment_count] => 0
                            [filter] => raw
                        )

                )

            [museum] => 0
            [events] => 0
            [active_event] => 
        )

    [32] => Array
        (
            [titel] => Hoffeldstraße 106
            [koordinaten] => 51.226315, 6.821290
            [marker_id] => 115
            [permalink] => https://40grad-urbanart.de/orte/hoffeldstrasse-106/
            [thumbnail] => https://40grad-urbanart.de/wp-content/uploads/2015/07/IMG_0038-391x220.jpg
            [actions] => Array
                (
                    [0] => WP_Post Object
                        (
                            [ID] => 1676
                            [post_author] => 7
                            [post_date] => 2016-09-15 17:51:24
                            [post_date_gmt] => 2016-09-15 15:51:24
                            [post_content] => 
                            [post_title] => Graffiti - 40grad 2013 - Revision / BANone, dremOnaut, crèm
                            [post_excerpt] => 
                            [post_status] => publish
                            [comment_status] => closed
                            [ping_status] => closed
                            [post_password] => 
                            [post_name] => graffiti-40grad-2013-revision-banone-dremonaut-crem
                            [to_ping] => 
                            [pinged] => 
                            [post_modified] => 2016-09-15 18:02:10
                            [post_modified_gmt] => 2016-09-15 16:02:10
                            [post_content_filtered] => 
                            [post_parent] => 0
                            [guid] => https://40grad-urbanart.de/?post_type=aktionen&p=1676
                            [menu_order] => 0
                            [post_type] => aktionen
                            [post_mime_type] => 
                            [comment_count] => 0
                            [filter] => raw
                        )

                )

            [museum] => 0
            [events] => 0
            [active_event] => 
        )

    [33] => Array
        (
            [titel] => Höhenstraße/Van Drouvenstraße
            [koordinaten] => 51.213327, 6.796104
            [marker_id] => 109
            [permalink] => https://40grad-urbanart.de/orte/hoehenstrassevan-drouvenstrasse/
            [thumbnail] => https://40grad-urbanart.de/wp-content/uploads/2015/07/IMG_5160-e1473953687234-147x220.jpg
            [actions] => Array
                (
                    [0] => WP_Post Object
                        (
                            [ID] => 1590
                            [post_author] => 2
                            [post_date] => 2016-08-07 22:26:39
                            [post_date_gmt] => 2016-08-07 20:26:39
                            [post_content] => 

"For me painting is an escape from my stress"


Die gebürtige Spanierin Andrea Michaelsson ist weltweit bekannt für ihre Stencil Arbeiten, die sowohl auf Leinwänden als auch auf großen Häuserfassaden die Betrachter in ihren Bann ziehen. Dabei portraitiert sie meist große Frauenpersönlichkeiten, die auch ihre persönlichen Heldinnen sind. Dazu zählen Petra Kelly über Frida Kahlo und Amy Winehouse bis zu Kleopatra alle, die sie besonders beeindrucken und etwas zur Frauengeschichte beigetragen haben. BTOY benutzt für ihre Werke oft alte Fotografien bekannter Schauspielerinnen und Persönlichkeiten, die einen Ikonenhaften Charakter besitzen. Dabei schafft es die Künstlerin diese durch kräftige und strahlende Farben in neuem Glanz erscheinen zu lassen. Abstrakte Hintergründe in Kombination mit sehr detailreichen Stencils zeichnen BTOYs Werk aus.
                            [post_title] => Wandgestaltung von BTOY
                            [post_excerpt] => 
                            [post_status] => publish
                            [comment_status] => closed
                            [ping_status] => closed
                            [post_password] => 
                            [post_name] => wandgestaltung-von-btoy
                            [to_ping] => 
                            [pinged] => 
                            [post_modified] => 2017-01-19 15:10:42
                            [post_modified_gmt] => 2017-01-19 14:10:42
                            [post_content_filtered] => 
                            [post_parent] => 0
                            [guid] => https://40grad-urbanart.de/?post_type=aktionen&p=1590
                            [menu_order] => 0
                            [post_type] => aktionen
                            [post_mime_type] => 
                            [comment_count] => 0
                            [filter] => raw
                        )

                )

            [museum] => 0
            [events] => 0
            [active_event] => 
        )

    [34] => Array
        (
            [titel] => Im Liefeld 5-11
            [koordinaten] => 51.210344, 6.811080
            [marker_id] => 113
            [permalink] => https://40grad-urbanart.de/orte/im-liefeld-5-11/
            [thumbnail] => https://40grad-urbanart.de/wp-content/uploads/2015/07/liefeld-05-330x220.jpg
            [actions] => Array
                (
                    [0] => WP_Post Object
                        (
                            [ID] => 1591
                            [post_author] => 2
                            [post_date] => 2016-08-07 22:32:32
                            [post_date_gmt] => 2016-08-07 20:32:32
                            [post_content] => 
                            [post_title] => Kollaboration von Kyot, Sibe, Real, blumenkohl, Bädboy und Sadam
                            [post_excerpt] => 
                            [post_status] => publish
                            [comment_status] => closed
                            [ping_status] => closed
                            [post_password] => 
                            [post_name] => kollaboration-von-kyot-sibe-real-blumenkohl-baedboy-und-sadam
                            [to_ping] => 
                            [pinged] => 
                            [post_modified] => 2016-12-15 12:13:47
                            [post_modified_gmt] => 2016-12-15 11:13:47
                            [post_content_filtered] => 
                            [post_parent] => 0
                            [guid] => https://40grad-urbanart.de/?post_type=aktionen&p=1591
                            [menu_order] => 0
                            [post_type] => aktionen
                            [post_mime_type] => 
                            [comment_count] => 0
                            [filter] => raw
                        )

                )

            [museum] => 0
            [events] => 0
            [active_event] => 
        )

    [35] => Array
        (
            [titel] => Jägerstraße 21
            [koordinaten] => 51.203752, 6.837477
            [marker_id] => 2636
            [permalink] => https://40grad-urbanart.de/orte/jaegerstrasse-21/
            [thumbnail] => https://40grad-urbanart.de/wp-content/uploads/2017/01/2016-fiftywand-fertg-298x220.jpg
            [actions] => Array
                (
                    [0] => WP_Post Object
                        (
                            [ID] => 2638
                            [post_author] => 7
                            [post_date] => 2017-01-12 12:18:14
                            [post_date_gmt] => 2017-01-12 11:18:14
                            [post_content] => Wandbild neben der fiftyfifty Galerie, die sich um odachlose Menschen kümmert. Parallel dazu fand in der Galerie eine Ausstellung mit dem griechischen Cartoonisten Michael Kountouris zum Thema Flüchtlinge statt. Begleitend fand ein Workshop mit jugendlichen Flüchtlingen statt.

Das Wandbild setzt sich mit dem Thema Haben und Teilen auseinander und nimmt den zunehmenden Egoismus der Gesellschaft ins Visier. Dem großen Haben im Hintergrund steht ein kleines Teilen gegenüber, eingesperrt in Stacheldraht. Wolf und Affe repräsentieren die unterschiedlichen Mentalitäten.

Haben und Teilen, 2016
Düsseldorf, Jägerstr. 21
Künstler: Klaus Klinger und Tuha
                            [post_title] => Wandild "Haben und Teilen", Klaus Klinger, Tuha, 2016
                            [post_excerpt] => 
                            [post_status] => publish
                            [comment_status] => closed
                            [ping_status] => closed
                            [post_password] => 
                            [post_name] => wandild-haben-und-teilen-klaus-klinger-tuha-2016
                            [to_ping] => 
                            [pinged] => 
                            [post_modified] => 2017-01-12 12:18:14
                            [post_modified_gmt] => 2017-01-12 11:18:14
                            [post_content_filtered] => 
                            [post_parent] => 0
                            [guid] => https://40grad-urbanart.de/?post_type=aktionen&p=2638
                            [menu_order] => 0
                            [post_type] => aktionen
                            [post_mime_type] => 
                            [comment_count] => 0
                            [filter] => raw
                        )

                )

            [museum] => 0
            [events] => 0
            [active_event] => 
        )

    [36] => Array
        (
            [titel] => Kamper Acker
            [koordinaten] => 51.174690, 6.834502
            [marker_id] => 2690
            [permalink] => https://40grad-urbanart.de/orte/kamper-acker/
            [thumbnail] => https://40grad-urbanart.de/wp-content/uploads/2017/05/Daniel-Fritz-348x220.jpg
            [actions] => Array
                (
                    [0] => WP_Post Object
                        (
                            [ID] => 2718
                            [post_author] => 7
                            [post_date] => 2017-08-16 10:44:47
                            [post_date_gmt] => 2017-08-16 08:44:47
                            [post_content] => 
                            [post_title] => 40grad urbanart Festival auf dem Kamper Acker
                            [post_excerpt] => 
                            [post_status] => publish
                            [comment_status] => closed
                            [ping_status] => closed
                            [post_password] => 
                            [post_name] => 40grad-urbanart-festival-auf-dem-kamper-acker
                            [to_ping] => 
                            [pinged] => 
                            [post_modified] => 2020-01-17 17:33:40
                            [post_modified_gmt] => 2020-01-17 16:33:40
                            [post_content_filtered] => 
                            [post_parent] => 0
                            [guid] => https://40grad-urbanart.de/?post_type=aktionen&p=2718
                            [menu_order] => 0
                            [post_type] => aktionen
                            [post_mime_type] => 
                            [comment_count] => 0
                            [filter] => raw
                        )

                )

            [museum] => 0
            [events] => 0
            [active_event] => 
        )

    [37] => Array
        (
            [titel] => Kiefernstraße
            [koordinaten] => 51.219091, 6.809395
            [marker_id] => 822
            [permalink] => https://40grad-urbanart.de/orte/kiefernstrasse/
            [thumbnail] => https://40grad-urbanart.de/wp-content/uploads/2015/07/40grad_kiefern_eroffnung_mg_073-147x220.jpg
            [actions] => Array
                (
                    [0] => WP_Post Object
                        (
                            [ID] => 1746
                            [post_author] => 7
                            [post_date] => 2016-09-19 16:07:55
                            [post_date_gmt] => 2016-09-19 14:07:55
                            [post_content] => Alle drei Monate organisiert der Kinderclub auf der Kiefernstraße eine Wandmalaktion. Bekannte und unbekannte Maler gestelten gemeinsam zu einem vorgegebenen Thema den so genannten "antikapitalistischen Schutzwall".

Zum Kiefernstraßenfest 2016 wurde die Mauer zum Thema "35 Jahre besetzte Kiefern" gestaltet.
                            [post_title] => Wandmalaktion zum Kiefernfest "35 Jahre besetzte Straße"
                            [post_excerpt] => 
                            [post_status] => publish
                            [comment_status] => closed
                            [ping_status] => closed
                            [post_password] => 
                            [post_name] => wandmalaktion-zum-kiefernfest-35-jahre-besetzte-strasse
                            [to_ping] => 
                            [pinged] => 
                            [post_modified] => 2016-12-08 18:42:33
                            [post_modified_gmt] => 2016-12-08 17:42:33
                            [post_content_filtered] => 
                            [post_parent] => 0
                            [guid] => https://40grad-urbanart.de/?post_type=aktionen&p=1746
                            [menu_order] => 0
                            [post_type] => aktionen
                            [post_mime_type] => 
                            [comment_count] => 0
                            [filter] => raw
                        )

                )

            [museum] => Array
                (
                    [0] => WP_Post Object
                        (
                            [ID] => 2333
                            [post_author] => 7
                            [post_date] => 2016-12-12 14:59:34
                            [post_date_gmt] => 2016-12-12 13:59:34
                            [post_content] => [embed]https://youtu.be/Jdghq6y_WAQ[/embed]

Am 05.03. sprach K. auf der Kiefernstraße drei Männer an die ein HipHop Musikvideo mit sexistischen Texten gedreht haben. Ihren Aufforderungen das drehen abzubrechen sind sie nicht nachgekommen. Auch haben sie keinerlei Verständnis zu ihrer Kritik an den Texten gezeigt. Während des Gesprächs mit den Rappern wurd

e sie gefilmt. Dieses Video wo hauptsächlich nur sie drauf zu sehen ist, wurde eine Woche später gegen ihre Einverständniserklärung und ohne ihr wissen auf Facebook gestellt. Die Musiker machten sich über sie lustig und riefen zum Teilen dieses Videos auf. Mittlerweile hat es über 34.000 (!) Klicks und in den Kommentare stehen teils schlimmste Beschimpfungen gegen ihre Person. (Shitstorm)






Sie fragte mich, ob wir ein Wandelement frei geben würden, um ein Bild malen zu lassen ( für einen Vodeodreh), der ein anderes Menschenbild-verständnis zeigt. Kein diss Video o.ä.
Wir fanden das Anliegen so unterstützenswert, dass wir vorschlugen, eine komplette Wandmalaktion mit etwas live Hiphop musik auf dem Dorfplatz zu machen.




                            [post_title] => Wandmalaktion Kiefern - "love hiphop - hate sexism", 2015
                            [post_excerpt] => 
                            [post_status] => publish
                            [comment_status] => closed
                            [ping_status] => closed
                            [post_password] => 
                            [post_name] => wandmalaktion-kiefern-love-hiphop-hate-sexism-2015
                            [to_ping] => 
                            [pinged] => 
                            [post_modified] => 2017-01-19 15:17:45
                            [post_modified_gmt] => 2017-01-19 14:17:45
                            [post_content_filtered] => 
                            [post_parent] => 0
                            [guid] => https://40grad-urbanart.de/?post_type=aktionen&p=2333
                            [menu_order] => 0
                            [post_type] => aktionen
                            [post_mime_type] => 
                            [comment_count] => 0
                            [filter] => raw
                        )

                    [1] => WP_Post Object
                        (
                            [ID] => 2133
                            [post_author] => 7
                            [post_date] => 2016-12-10 18:46:16
                            [post_date_gmt] => 2016-12-10 17:46:16
                            [post_content] => Im Zuge der Baumaßnahmen für das B8-Einkaufszentrum wurde zur Kiefernstraße eine Lärmschutzwand, der so genannte "Antikapitalistische Schutzwall" errichtet.

Der Kinderclub Kiefernstraße hat sich beim Investor des Gebäudes und Bauherr der Mauer um die Genehmigung zur Bemalung der Mauer gekümmert und im September 2011 wurde diese erstmalig von namhaften und noch unbekannten Künstlern gestaltet.
                            [post_title] => Wandmalaktion auf der Kiefernstraße #1
                            [post_excerpt] => 
                            [post_status] => publish
                            [comment_status] => closed
                            [ping_status] => closed
                            [post_password] => 
                            [post_name] => wandmalaktion-auf-der-kiefernstrasse-1
                            [to_ping] => 
                            [pinged] => 
                            [post_modified] => 2017-01-19 15:15:08
                            [post_modified_gmt] => 2017-01-19 14:15:08
                            [post_content_filtered] => 
                            [post_parent] => 0
                            [guid] => https://40grad-urbanart.de/?post_type=aktionen&p=2133
                            [menu_order] => 0
                            [post_type] => aktionen
                            [post_mime_type] => 
                            [comment_count] => 0
                            [filter] => raw
                        )

                    [2] => WP_Post Object
                        (
                            [ID] => 2099
                            [post_author] => 7
                            [post_date] => 2016-12-10 14:50:18
                            [post_date_gmt] => 2016-12-10 13:50:18
                            [post_content] => Das ehemalige Teppich-Frick Gebäude wurde für den Bau eines Einkaufszentrums abgerissen. Den Bauzaun für dieses B8-Center nutzten wir 2009 für die erste gemeinsame Wandmalaktion mit Künstlern und Kindern vom Kinderclub auf der Kiefernstraße.

Viele weitere Malaktionen sollten folgen.
                            [post_title] => Wandmalaktion "Framework" auf dem Bauzaun zum B8-Center
                            [post_excerpt] => 
                            [post_status] => publish
                            [comment_status] => closed
                            [ping_status] => closed
                            [post_password] => 
                            [post_name] => wandmalaktion-framework-auf-dem-bauzaun-zum-b8-center
                            [to_ping] => 
                            [pinged] => 
                            [post_modified] => 2017-01-19 15:11:50
                            [post_modified_gmt] => 2017-01-19 14:11:50
                            [post_content_filtered] => 
                            [post_parent] => 0
                            [guid] => https://40grad-urbanart.de/?post_type=aktionen&p=2099
                            [menu_order] => 0
                            [post_type] => aktionen
                            [post_mime_type] => 
                            [comment_count] => 0
                            [filter] => raw
                        )

                    [3] => WP_Post Object
                        (
                            [ID] => 301
                            [post_author] => 1
                            [post_date] => 2015-07-26 13:15:41
                            [post_date_gmt] => 2015-07-26 11:15:41
                            [post_content] => Zum großen Eröffnungsfest des 40grad urbanart Festivals am 7.9.2013 kamen viele Bürger, Nachbarn, Eltern, Freunde und Fernsehteams. Kinder fuhren mit bekannten Skate- und Longboardern auf der Straße, rappten und beatboxten mit lokalen HipHop-Größen. Graffiti- und Streetartkünstler sprühten und malten die Hall of Fame neu.
                            [post_title] => Eröffnungsfest des 40grad urbanart Festivals 2013 auf der Kiefernstraße
                            [post_excerpt] => 
                            [post_status] => publish
                            [comment_status] => closed
                            [ping_status] => closed
                            [post_password] => 
                            [post_name] => eroeffnungsfest-kiefernstrasse
                            [to_ping] => 
                            [pinged] => 
                            [post_modified] => 2017-01-19 14:53:36
                            [post_modified_gmt] => 2017-01-19 13:53:36
                            [post_content_filtered] => 
                            [post_parent] => 0
                            [guid] => http://40grad-urbanart.de/?post_type=galerie&p=301
                            [menu_order] => 0
                            [post_type] => aktionen
                            [post_mime_type] => 
                            [comment_count] => 0
                            [filter] => raw
                        )

                )

            [events] => 0
            [active_event] => 
        )

    [38] => Array
        (
            [titel] => Kinder- und Jugendgesundheitsdienst
            [koordinaten] => 51.218207, 6.802307
            [marker_id] => 111
            [permalink] => https://40grad-urbanart.de/orte/koelner-strasse-229/
            [thumbnail] => https://40grad-urbanart.de/wp-content/uploads/2015/07/verbunt-koelner-205x220.jpg
            [actions] => Array
                (
                    [0] => WP_Post Object
                        (
                            [ID] => 388
                            [post_author] => 1
                            [post_date] => 2015-07-26 14:06:05
                            [post_date_gmt] => 2015-07-26 12:06:05
                            [post_content] => 
                            [post_title] => Verbunt & Jugendliche
                            [post_excerpt] => 
                            [post_status] => publish
                            [comment_status] => closed
                            [ping_status] => closed
                            [post_password] => 
                            [post_name] => verbunt-jugendliche
                            [to_ping] => 
                            [pinged] => 
                            [post_modified] => 2017-01-19 15:00:42
                            [post_modified_gmt] => 2017-01-19 14:00:42
                            [post_content_filtered] => 
                            [post_parent] => 0
                            [guid] => http://40grad-urbanart.de/?post_type=galerie&p=388
                            [menu_order] => 0
                            [post_type] => aktionen
                            [post_mime_type] => 
                            [comment_count] => 0
                            [filter] => raw
                        )

                )

            [museum] => 0
            [events] => 0
            [active_event] => 
        )

    [39] => Array
        (
            [titel] => Kinderclub Kiefern 21
            [koordinaten] => 51.219178, 6.809437
            [marker_id] => 2682
            [permalink] => https://40grad-urbanart.de/orte/kinderclub-kiefern-21/
            [thumbnail] => https://40grad-urbanart.de/wp-content/uploads/2017/04/slideshow_image-166x220.jpg
            [actions] => 0
            [museum] => 0
            [events] => 0
            [active_event] => 
        )

    [40] => Array
        (
            [titel] => Kinderspieltreff, Oberbilker Allee 1
            [koordinaten] => 51.211076, 6.783097
            [marker_id] => 2627
            [permalink] => https://40grad-urbanart.de/orte/kinderspieltreff-oberbilker-allee-1/
            [thumbnail] => https://40grad-urbanart.de/wp-content/uploads/2017/01/1027A-437x220.jpg
            [actions] => Array
                (
                    [0] => WP_Post Object
                        (
                            [ID] => 2629
                            [post_author] => 7
                            [post_date] => 2017-01-12 11:52:11
                            [post_date_gmt] => 2017-01-12 10:52:11
                            [post_content] => Der Kinderspieltreff ist die einzige Freizeiteinrichtung für Kinder im Stadtteil Friedrichstadt. Dieser Stadtteil mit hohem Migrationsanteil ist gekennzeichnet durch dichte Bebauung und mangelnde Spiel- und Grünflächen. Täglich besuchen bis zu 50 Kinder die Einrichtung, um sich mit ihren Freunden und Freundinnen zu treffen. An der Gestaltung der Programme und Aktionen können die Kinder aktiv mit wirken.
Die Einrichtung befindet sich an einer vielbefahrenden Straßenkreuzung mit hoher Luftverschmutzung.
Das Haus selbst hat durch Architektur und Zustand ein eher trostloses Aussehen.
Mit den Kindern wurden Ideen und Entwürfe entwickelt um dem Club selbst ein ansprechenderes Äußeres zu geben und allgemein diese Ecke etwas ansprechender zu gestalten.
                            [post_title] => Fassade des Kinderspieltreffs Oberbilker Allee 1 von Kinder des Treffs und Klaus Klinger, 2011
                            [post_excerpt] => 
                            [post_status] => publish
                            [comment_status] => closed
                            [ping_status] => closed
                            [post_password] => 
                            [post_name] => fassade-des-kinderspieltreffs-oberbilker-allee-1-von-kinder-des-treffs-und-klaus-klinger-2011
                            [to_ping] => 
                            [pinged] => 
                            [post_modified] => 2017-01-12 11:52:11
                            [post_modified_gmt] => 2017-01-12 10:52:11
                            [post_content_filtered] => 
                            [post_parent] => 0
                            [guid] => https://40grad-urbanart.de/?post_type=aktionen&p=2629
                            [menu_order] => 0
                            [post_type] => aktionen
                            [post_mime_type] => 
                            [comment_count] => 0
                            [filter] => raw
                        )

                )

            [museum] => 0
            [events] => 0
            [active_event] => 
        )

    [41] => Array
        (
            [titel] => Kölner Landstraße 431
            [koordinaten] => 51.176890, 6.830762
            [marker_id] => 2782
            [permalink] => https://40grad-urbanart.de/orte/koelner-landstrasse-431/
            [thumbnail] => https://40grad-urbanart.de/wp-content/uploads/2017/08/21056253_932176466931411_7227286935704612336_o-330x220.jpg
            [actions] => Array
                (
                    [0] => WP_Post Object
                        (
                            [ID] => 2784
                            [post_author] => 7
                            [post_date] => 2017-08-31 19:02:34
                            [post_date_gmt] => 2017-08-31 17:02:34
                            [post_content] => 
                            [post_title] => Wandbild von Charles Bhebe zum 40grad Festival 2017
                            [post_excerpt] => 
                            [post_status] => publish
                            [comment_status] => closed
                            [ping_status] => closed
                            [post_password] => 
                            [post_name] => wandbild-von-charles-bhebe-zum-40grad-festival-2017
                            [to_ping] => 
                            [pinged] => 
                            [post_modified] => 2017-08-31 19:04:40
                            [post_modified_gmt] => 2017-08-31 17:04:40
                            [post_content_filtered] => 
                            [post_parent] => 0
                            [guid] => https://40grad-urbanart.de/?post_type=aktionen&p=2784
                            [menu_order] => 0
                            [post_type] => aktionen
                            [post_mime_type] => 
                            [comment_count] => 0
                            [filter] => raw
                        )

                )

            [museum] => 0
            [events] => 0
            [active_event] => 
        )

    [42] => Array
        (
            [titel] => Kölner Straße 180, Gesundheitsamt
            [koordinaten] => 51.218261, 6.802284
            [marker_id] => 2538
            [permalink] => https://40grad-urbanart.de/orte/koelner-strasse-180-gesundheitsamt/
            [thumbnail] => https://40grad-urbanart.de/wp-content/uploads/2016/12/DSCF4506-147x220.jpg
            [actions] => Array
                (
                    [0] => WP_Post Object
                        (
                            [ID] => 2543
                            [post_author] => 7
                            [post_date] => 2016-12-20 15:21:15
                            [post_date_gmt] => 2016-12-20 14:21:15
                            [post_content] => Marc: Das war das erste Bild der Majo Brothers. Es ist jetzt genau 10 Jahre alt. Wir haben uns umgeschaut welche Wände wir gestalten könnten und dann haben wir hier angefragt und durften dann loslegen. Der Herr hat uns auch sehr ernst genommen, obwohl wir noch keine Referenzen hatten. Damals haben wir auch noch unseren Namen in das Bild gebaut. Heute mache ich das nicht mehr, weil ich finde, dass das das Gesamtbild irgendwie kaputt macht.
                            [post_title] => Wandbild der MaJo brothers am Gesundheitsamt, Kölnerstraße 180, 2005
                            [post_excerpt] => 
                            [post_status] => publish
                            [comment_status] => closed
                            [ping_status] => closed
                            [post_password] => 
                            [post_name] => wandbild-der-majo-brothers-am-gesundheitsamt-koelnerstrasse-180-2005
                            [to_ping] => 
                            [pinged] => 
                            [post_modified] => 2017-01-19 15:08:09
                            [post_modified_gmt] => 2017-01-19 14:08:09
                            [post_content_filtered] => 
                            [post_parent] => 0
                            [guid] => https://40grad-urbanart.de/?post_type=aktionen&p=2543
                            [menu_order] => 0
                            [post_type] => aktionen
                            [post_mime_type] => 
                            [comment_count] => 0
                            [filter] => raw
                        )

                )

            [museum] => 0
            [events] => 0
            [active_event] => 
        )

    [43] => Array
        (
            [titel] => Lindenstraße 95 – 40gradLEGLOS-Haus
            [koordinaten] => 51.228450, 6.803586
            [marker_id] => 2785
            [permalink] => https://40grad-urbanart.de/orte/lindenstrasse-95-40gradleglos-haus/
            [thumbnail] => https://40grad-urbanart.de/wp-content/uploads/2018/07/44443866_1020416491494046_7531993694983946240_o-136x220.jpg
            [actions] => Array
                (
                    [0] => WP_Post Object
                        (
                            [ID] => 2834
                            [post_author] => 7
                            [post_date] => 2019-08-01 21:59:16
                            [post_date_gmt] => 2019-08-01 19:59:16
                            [post_content] => Leider konnten wir das 

#

LEGLOSHAUS

 nicht so gestalten, wie wir uns das gewünscht hätten. Komplett spurenlos wollen wir jedoch auch nicht verschwinden! Deswegen stand Tom Brane mit den Dosen an der Wand und gestaltete die Fassade!

Gerne wollten wir mit euch mitten in Flingern das 40grad-LEGLOS-Haus zum Leben erwecken. Trotz intensiver Bemühungen stellte sich heraus, dass die Sicherheit in dem Gebäude nicht gewährleistet werden kann, da eine im schlimmsten Fall nötige Evakuierung durch die Feuerwehr nicht durchgeführt werden konnten. Da für uns euer Wohl und das der Besucher Priorität hat, sahen wir uns schweren Herzens gezwungen  die Veranstaltung ab

zusagen.






Restlos haben wir das 

#

LEGLOSHAUS

 jedoch nicht aufgegeben. Tom Brane malte, wie geplant die Außenfassade des Hauses zum Thema Kinderrechte! Der Freiburger malt schon seit dem er 8 Jahre ist und kommt extra für das Projekt zu uns nach Düsseldorf.




                            [post_title] => Das 40grad LEGLOS Haus
                            [post_excerpt] => 
                            [post_status] => publish
                            [comment_status] => closed
                            [ping_status] => closed
                            [post_password] => 
                            [post_name] => das-40grad-leglos-haus
                            [to_ping] => 
                            [pinged] => 
                            [post_modified] => 2019-08-01 21:59:16
                            [post_modified_gmt] => 2019-08-01 19:59:16
                            [post_content_filtered] => 
                            [post_parent] => 0
                            [guid] => https://40grad-urbanart.de/?post_type=aktionen&p=2834
                            [menu_order] => 0
                            [post_type] => aktionen
                            [post_mime_type] => 
                            [comment_count] => 0
                            [filter] => raw
                        )

                    [1] => WP_Post Object
                        (
                            [ID] => 2822
                            [post_author] => 7
                            [post_date] => 2018-08-24 11:57:53
                            [post_date_gmt] => 2018-08-24 09:57:53
                            [post_content] => 

Liebe Freunde des 40gradLEGLOS-Hauses,





gerne wollten wir mit euch mitten in Flingern das 40grad-LEGLOS-Haus zum Leben erwecken. 

Heute

 hat sich trotz intensiver Bemühungen herausgestellt, dass die Sicherheit in dem Gebäude nicht gewährleistet werden kann, da eine im schlimmsten Fall nötige Evakuierung durch die Feuerwehr nicht durchgeführt werden kann. Da für uns euer Wohl und das der Besucher Priorität hat, sehen wir uns schweren Herzens gezwungen hiermit die Veranstaltung abzusagen.





Da wir von der Idee und dem Konzept eines 40gradLEGLOS-Hauses immernoch überzeugt sind, begeben wir uns wieder auf die Suche nach einem weiteren geeigneten Objekt - gerne auch mit eurer Hilfe.





Wir hoffen, dass ihr auch beim nächsten Mal dabei seid!





Euer 40gradLEGLOS-Haus Team


                            [post_title] => Absage 40gradLEGLOS-Haus
                            [post_excerpt] => 
                            [post_status] => publish
                            [comment_status] => closed
                            [ping_status] => closed
                            [post_password] => 
                            [post_name] => absage-40gradleglos-haus
                            [to_ping] => 
                            [pinged] => 
                            [post_modified] => 2018-08-24 11:59:07
                            [post_modified_gmt] => 2018-08-24 09:59:07
                            [post_content_filtered] => 
                            [post_parent] => 0
                            [guid] => https://40grad-urbanart.de/?post_type=aktionen&p=2822
                            [menu_order] => 0
                            [post_type] => aktionen
                            [post_mime_type] => 
                            [comment_count] => 0
                            [filter] => raw
                        )

                )

            [museum] => 0
            [events] => 0
            [active_event] => 
        )

    [44] => Array
        (
            [titel] => Linienstraße 108
            [koordinaten] => 51.211378, 6.800436
            [marker_id] => 1683
            [permalink] => https://40grad-urbanart.de/orte/linienstrasse-108/
            [thumbnail] => https://40grad-urbanart.de/wp-content/uploads/2015/07/40grad_kiefern_kreidemalaktion_mg_005-147x220.jpg
            [actions] => 0
            [museum] => Array
                (
                    [0] => WP_Post Object
                        (
                            [ID] => 334
                            [post_author] => 1
                            [post_date] => 2015-07-26 13:53:44
                            [post_date_gmt] => 2015-07-26 11:53:44
                            [post_content] => Mit ganz vielen Kindern wurden mehr als 100 Meter der Flügelstraße mit Kreide gestaltet.
                            [post_title] => Kreidemalaktion mit Kindern bei Ökkes - 2013
                            [post_excerpt] => 
                            [post_status] => publish
                            [comment_status] => closed
                            [ping_status] => closed
                            [post_password] => 
                            [post_name] => kreidemalaktion
                            [to_ping] => 
                            [pinged] => 
                            [post_modified] => 2016-12-15 12:12:10
                            [post_modified_gmt] => 2016-12-15 11:12:10
                            [post_content_filtered] => 
                            [post_parent] => 0
                            [guid] => http://40grad-urbanart.de/?post_type=galerie&p=334
                            [menu_order] => 0
                            [post_type] => aktionen
                            [post_mime_type] => 
                            [comment_count] => 0
                            [filter] => raw
                        )

                )

            [events] => 0
            [active_event] => 
        )

    [45] => Array
        (
            [titel] => Ludenberger Straße 31 – Galerie Ben Mathis
            [koordinaten] => 51.240417, 6.833079
            [marker_id] => 2668
            [permalink] => https://40grad-urbanart.de/orte/ludenberger-strasse-31-galerie-ben-mathis/
            [thumbnail] => https://40grad-urbanart.de/wp-content/uploads/2017/02/EinaldungFront-361x220.jpg
            [actions] => 0
            [museum] => 0
            [events] => 0
            [active_event] => 
        )

    [46] => Array
        (
            [titel] => Ludenberger Straße 44
            [koordinaten] => 51.240795, 6.833458
            [marker_id] => 102
            [permalink] => https://40grad-urbanart.de/orte/ludenberger-strasse-44/
            [thumbnail] => https://40grad-urbanart.de/wp-content/uploads/2015/07/ben-mathis-171x220.jpg
            [actions] => Array
                (
                    [0] => WP_Post Object
                        (
                            [ID] => 1740
                            [post_author] => 7
                            [post_date] => 2016-09-16 16:37:06
                            [post_date_gmt] => 2016-09-16 14:37:06
                            [post_content] => Ben Mathis begann in den 90er Jahren mit seiner künstlerischen Arbeit und war 2004, 2007 und 2008 maßgeblich an der Gestaltung der Häuser auf der Kiefernstraße beteiligt. In Essen verwandelte er zuletzt ein großes Eckwohn­haus zu einem Dschungel. An der Ludenberger Straße, schräg gegenüber seiner Atelier-Galerie, schuf er für 40 Grad eine seiner grob verpixelten Darstellungen von Perspektiven, die sich vielleicht erst aus der Entfernung erah­nen lassen und doch wage bekannt erscheinen.
                            [post_title] => Wandbild von Ben Mathis zum 40grad urbanart Festival 2013
                            [post_excerpt] => 
                            [post_status] => publish
                            [comment_status] => closed
                            [ping_status] => closed
                            [post_password] => 
                            [post_name] => wandbild-von-ben-mathis-zum-40grad-urbanart-festival-2013
                            [to_ping] => 
                            [pinged] => 
                            [post_modified] => 2017-01-19 15:08:35
                            [post_modified_gmt] => 2017-01-19 14:08:35
                            [post_content_filtered] => 
                            [post_parent] => 0
                            [guid] => https://40grad-urbanart.de/?post_type=aktionen&p=1740
                            [menu_order] => 0
                            [post_type] => aktionen
                            [post_mime_type] => 
                            [comment_count] => 0
                            [filter] => raw
                        )

                )

            [museum] => 0
            [events] => 0
            [active_event] => 
        )

    [47] => Array
        (
            [titel] => LVR – Klinikum Düsseldorf, Weltbaustelle 1
            [koordinaten] => 51.241971, 6.844794
            [marker_id] => 2306
            [permalink] => https://40grad-urbanart.de/orte/lvr-klinikum-duesseldorf-weltbaustelle-1/
            [thumbnail] => https://40grad-urbanart.de/wp-content/uploads/2016/12/IMG_2550-293x220.jpg
            [actions] => Array
                (
                    [0] => WP_Post Object
                        (
                            [ID] => 2329
                            [post_author] => 7
                            [post_date] => 2016-12-12 12:20:00
                            [post_date_gmt] => 2016-12-12 11:20:00
                            [post_content] => 
                            [post_title] => Wandmalaktion am LVR - Klinikum Düsseldorf, Weltbaustelle 1, 2016
                            [post_excerpt] => 
                            [post_status] => publish
                            [comment_status] => closed
                            [ping_status] => closed
                            [post_password] => 
                            [post_name] => wandmalaktion-am-lvr-klinikum-duesseldorf-weltbaustelle-1-2016
                            [to_ping] => 
                            [pinged] => 
                            [post_modified] => 2017-01-19 15:12:58
                            [post_modified_gmt] => 2017-01-19 14:12:58
                            [post_content_filtered] => 
                            [post_parent] => 0
                            [guid] => https://40grad-urbanart.de/?post_type=aktionen&p=2329
                            [menu_order] => 0
                            [post_type] => aktionen
                            [post_mime_type] => 
                            [comment_count] => 0
                            [filter] => raw
                        )

                )

            [museum] => 0
            [events] => 0
            [active_event] => 
        )

    [48] => Array
        (
            [titel] => Merowingerstraße 4
            [koordinaten] => 51.207091, 6.777380
            [marker_id] => 1736
            [permalink] => https://40grad-urbanart.de/orte/merowingerstrasse-4/
            [thumbnail] => https://40grad-urbanart.de/wp-content/uploads/2016/09/09-683A-158x220.jpg
            [actions] => Array
                (
                    [0] => WP_Post Object
                        (
                            [ID] => 1738
                            [post_author] => 7
                            [post_date] => 2016-09-16 16:22:01
                            [post_date_gmt] => 2016-09-16 14:22:01
                            [post_content] => Mehr als 40 Entwürfe entstanden in der Gastwirtschaft Tigges neben der Hauswand. Aus den vielen Ideen von Gästen und Künstlern, entschieden sich die Künstler und der Hausbesitzer für einen Entwurf, der in Anlehnung an eine frühere Arbeit von Farbfieber, das Thema "Wirtschaftswunder" für sie am besten repräsentiert. Die Wirtschaft boomt und wir wundern uns über zunehmende Armut im Viertel und weltweit.
Außerdem bestand die Möglichkeit viele der Ideen in den Entwurf zu integrieren. So wurden mehr als 20 neue Figuren entwickelt. In dem Wandbild kann man eine Vielzahl von Geschichten entdecken, die das Thema unterschiedlich beleuchten. Es ist auch ein Gegenstück zu dem Konsumpalast, der genau gegenüber entstand und 2008 fertiggestellt wurde.

Das Bild: Im Kontrast zu den extraordinären Gewinnen der Wirtschaft wird die zunehmende Armut in Düsseldorf und noch gravierender in vielen anderen Ländern, durch eine endlos wachsende Pyramide und auf Holz gemalte lokale und internationale Figuren und Menschen gezeigt. Kinder, Jugendliche und Rentner tauchen in dem Bild auf und erzählen unterschiedliche Geschichten. Die beiden Figuren, die frohgemut mit dem Spaten in den 1 Euro Job marschieren, Kinder, die direkt von der Schule ins Arbeitsamt wandern, der Dieb, der noch die Armen beklaut - oder ist es doch nur ein Politiker oder Spekulant?, Oma B., die sich von ihrem letzten Geld einen Metalldetektor gekauft hat, um ihre Rente durch die Suche nach dem Wunder von Bilk aufzubessern.
                            [post_title] => Wandbild "Wirtschaftswunder" von farbfieber
                            [post_excerpt] => 
                            [post_status] => publish
                            [comment_status] => closed
                            [ping_status] => closed
                            [post_password] => 
                            [post_name] => wandbild-wirtschaftswunder-von-farbfieber
                            [to_ping] => 
                            [pinged] => 
                            [post_modified] => 2017-01-19 15:07:51
                            [post_modified_gmt] => 2017-01-19 14:07:51
                            [post_content_filtered] => 
                            [post_parent] => 0
                            [guid] => https://40grad-urbanart.de/?post_type=aktionen&p=1738
                            [menu_order] => 0
                            [post_type] => aktionen
                            [post_mime_type] => 
                            [comment_count] => 0
                            [filter] => raw
                        )

                )

            [museum] => 0
            [events] => 0
            [active_event] => 
        )

    [49] => Array
        (
            [titel] => Münsterstraße 500 – Bunker
            [koordinaten] => 51.261997, 6.808165
            [marker_id] => 1699
            [permalink] => https://40grad-urbanart.de/orte/muensterstrasse-500-bunker/
            [thumbnail] => https://40grad-urbanart.de/wp-content/uploads/2016/09/01-110A-328x220.jpg
            [actions] => Array
                (
                    [0] => WP_Post Object
                        (
                            [ID] => 1701
                            [post_author] => 7
                            [post_date] => 2016-09-16 13:10:26
                            [post_date_gmt] => 2016-09-16 11:10:26
                            [post_content] => Nach vielen Verhandlungen mit der Bezierksvertretung konnte das Wandbild an dem Bunker gemalt werden.
Das Bild zeigt eine Frau mit Kind, die vor einem Bombenarlarm flüchten.
Das Bild ist nach einem Foto des Fotografen "Cappa" entstanden, als Deutsche im spanischen Bürgerkrieg Barcelona bombardierten.

Bunker Rath, Münsterstr.
1987 Wandmalgruppe Düsseldorf,
2010 restauriert, Künstler: Klaus Klinger, Farbfieber  e.V.
                            [post_title] => Der Bunker in Düsseldorf-Rath
                            [post_excerpt] => 
                            [post_status] => publish
                            [comment_status] => closed
                            [ping_status] => closed
                            [post_password] => 
                            [post_name] => der-bunker-in-duesseldorf-rath
                            [to_ping] => 
                            [pinged] => 
                            [post_modified] => 2017-01-19 14:53:05
                            [post_modified_gmt] => 2017-01-19 13:53:05
                            [post_content_filtered] => 
                            [post_parent] => 0
                            [guid] => https://40grad-urbanart.de/?post_type=aktionen&p=1701
                            [menu_order] => 0
                            [post_type] => aktionen
                            [post_mime_type] => 
                            [comment_count] => 0
                            [filter] => raw
                        )

                )

            [museum] => 0
            [events] => 0
            [active_event] => 
        )

    [50] => Array
        (
            [titel] => Neumannstraße 4, der erste TAG-tower
            [koordinaten] => 51.233524, 6.824578
            [marker_id] => 2335
            [permalink] => https://40grad-urbanart.de/orte/neumannstrasse-4-der-erste-tag-tower/
            [thumbnail] => https://40grad-urbanart.de/wp-content/uploads/2016/12/IMG_2121-e1481565157794-165x220.jpg
            [actions] => 0
            [museum] => Array
                (
                    [0] => WP_Post Object
                        (
                            [ID] => 2346
                            [post_author] => 7
                            [post_date] => 2016-12-12 18:56:30
                            [post_date_gmt] => 2016-12-12 17:56:30
                            [post_content] => 
                            [post_title] => Neumannstraße 4, TAG-tower #1 von 'onlinewonder', 2016
                            [post_excerpt] => 
                            [post_status] => publish
                            [comment_status] => closed
                            [ping_status] => closed
                            [post_password] => 
                            [post_name] => neumannstrasse-4-tag-toter-1
                            [to_ping] => 
                            [pinged] => 
                            [post_modified] => 2016-12-12 20:05:26
                            [post_modified_gmt] => 2016-12-12 19:05:26
                            [post_content_filtered] => 
                            [post_parent] => 0
                            [guid] => https://40grad-urbanart.de/?post_type=aktionen&p=2346
                            [menu_order] => 0
                            [post_type] => aktionen
                            [post_mime_type] => 
                            [comment_count] => 0
                            [filter] => raw
                        )

                )

            [events] => 0
            [active_event] => 
        )

    [51] => Array
        (
            [titel] => Oberbilker Allee – Toom Markt
            [koordinaten] => 51.210984, 6.788673
            [marker_id] => 2019
            [permalink] => https://40grad-urbanart.de/orte/oberbilker-allee-toom-markt/
            [thumbnail] => https://40grad-urbanart.de/wp-content/uploads/2016/12/05_Frames-Layers-0-330x220.jpg
            [actions] => 0
            [museum] => Array
                (
                    [0] => WP_Post Object
                        (
                            [ID] => 2035
                            [post_author] => 7
                            [post_date] => 2016-12-08 18:59:53
                            [post_date_gmt] => 2016-12-08 17:59:53
                            [post_content] => 
                            [post_title] => "Frames & Layers" by cole blaq für 40grad urbanart 2016
                            [post_excerpt] => 
                            [post_status] => publish
                            [comment_status] => closed
                            [ping_status] => closed
                            [post_password] => 
                            [post_name] => frames-layers-by-cole-blaq-fuer-40grad-urbanart-2016
                            [to_ping] => 
                            [pinged] => 
                            [post_modified] => 2016-12-08 19:00:58
                            [post_modified_gmt] => 2016-12-08 18:00:58
                            [post_content_filtered] => 
                            [post_parent] => 0
                            [guid] => https://40grad-urbanart.de/?post_type=aktionen&p=2035
                            [menu_order] => 0
                            [post_type] => aktionen
                            [post_mime_type] => 
                            [comment_count] => 0
                            [filter] => raw
                        )

                )

            [events] => 0
            [active_event] => 
        )

    [52] => Array
        (
            [titel] => Oberbilker Allee 42, S-Bahnhof Friedrichstadt
            [koordinaten] => 51.211222, 6.788218
            [marker_id] => 2648
            [permalink] => https://40grad-urbanart.de/orte/oberbilker-allee-42-s-bahnhof-friedrichstadt/
            [thumbnail] => https://40grad-urbanart.de/wp-content/uploads/2017/01/S-Bahnhof-Frierichstadt-3-oberbilker-allee-496x220.jpg
            [actions] => Array
                (
                    [0] => WP_Post Object
                        (
                            [ID] => 2650
                            [post_author] => 7
                            [post_date] => 2017-01-12 13:06:31
                            [post_date_gmt] => 2017-01-12 12:06:31
                            [post_content] => Während im hinteren Bereich einige Wölfe herumlungern, stehen vorne Reisende vor verrammelter Tür, die Eu versperrt die Türen und für Reisende aus anderen Kontinenten wird es immer schwieriger die hohen Mauern zu überwinden. Man muss schon ein Schaf sein um das zu verstehen.

"Eingesperrt - Ausgesperrt", 2009

Düsseldorf, Oberbilker Allee 42, S-Bahnhof Friedrichstadt
Künstler: Klaus Klinger
Julieta del Carmen Leon (Figurengruppe), Kuba
Marc Hennig (Tür)
Miroh(Eisenbahn)
                            [post_title] => "Eingesperrt - Ausgesperrt", Gestaltung des S-Bahnhof Friedrichstadt, 2009
                            [post_excerpt] => 
                            [post_status] => publish
                            [comment_status] => closed
                            [ping_status] => closed
                            [post_password] => 
                            [post_name] => eingesperrt-ausgesperrt-gestaltung-des-s-bahnhof-friedrichstadt-2009
                            [to_ping] => 
                            [pinged] => 
                            [post_modified] => 2017-01-12 13:06:31
                            [post_modified_gmt] => 2017-01-12 12:06:31
                            [post_content_filtered] => 
                            [post_parent] => 0
                            [guid] => https://40grad-urbanart.de/?post_type=aktionen&p=2650
                            [menu_order] => 0
                            [post_type] => aktionen
                            [post_mime_type] => 
                            [comment_count] => 0
                            [filter] => raw
                        )

                )

            [museum] => 0
            [events] => 0
            [active_event] => 
        )

    [53] => Array
        (
            [titel] => Odenthaler Weg 7
            [koordinaten] => 51.184423, 6.830144
            [marker_id] => 107
            [permalink] => https://40grad-urbanart.de/orte/odenthaler-weg-7/
            [thumbnail] => https://40grad-urbanart.de/wp-content/uploads/2015/07/40grad_decycle_mg_004-330x220.jpg
            [actions] => Array
                (
                    [0] => WP_Post Object
                        (
                            [ID] => 1742
                            [post_author] => 7
                            [post_date] => 2016-09-19 15:12:29
                            [post_date_gmt] => 2016-09-19 13:12:29
                            [post_content] => Decycle ist ein aus Deutschland stammender Urban Art Künstler. Seine Arbeiten findet man als Paste-ups vorrangig in den Strarßen von Düsseldorf, Köln, Berlin und im Ruhrgebiet. In den letzten zwei Jahren hat er eine steile Entwicklung gemacht, die mit dem Bild "Little Red Bombing The Hood" begann. Seine Arbeiten haben inzwischen viele Liebha­ber gefunden und er wurde zu zahlreichen Urban Art Festivals eingeladen. DECYCLE Werke treffen den Nerv der Zeit und benötigen keiner weiteren Erklärungen. Seine Botschaften sind deutlich, dabei aber nie mit erhobenem Zeigefinger, sondern immer mit einem Augenzwinkern.
                            [post_title] => Decycle am Odenthaler Weg 7 zum 40grad-urbanart Festival 2013
                            [post_excerpt] => 
                            [post_status] => publish
                            [comment_status] => closed
                            [ping_status] => closed
                            [post_password] => 
                            [post_name] => decycle-am-odenthaler-weg-7-zum-40grad-urbanart-festival-2013
                            [to_ping] => 
                            [pinged] => 
                            [post_modified] => 2017-01-19 14:52:45
                            [post_modified_gmt] => 2017-01-19 13:52:45
                            [post_content_filtered] => 
                            [post_parent] => 0
                            [guid] => https://40grad-urbanart.de/?post_type=aktionen&p=1742
                            [menu_order] => 0
                            [post_type] => aktionen
                            [post_mime_type] => 
                            [comment_count] => 0
                            [filter] => raw
                        )

                )

            [museum] => 0
            [events] => 0
            [active_event] => 
        )

    [54] => Array
        (
            [titel] => Parkhaus am Landtag
            [koordinaten] => 51.217404, 6.763808
            [marker_id] => 2654
            [permalink] => https://40grad-urbanart.de/orte/parkhaus-am-landtag/
            [thumbnail] => https://40grad-urbanart.de/wp-content/uploads/2017/01/2002-Landttag-Düsseldorf.jpg
            [actions] => 0
            [museum] => Array
                (
                    [0] => WP_Post Object
                        (
                            [ID] => 2657
                            [post_author] => 7
                            [post_date] => 2017-01-12 16:16:25
                            [post_date_gmt] => 2017-01-12 15:16:25
                            [post_content] => Mit über 1000qm und durch seine exponierte Lage vor dem Düsseldorfer Landtag, war das Wandbild, gestaltet von vier Künstlern aus vier Ländern, ein großer vorläufiger Abschluß der Wandmalkampagne Mural-Global.

Das von Farbfieber organisierte weltweite Wandmalprojekt mit mehr als 100 Wandbildern fand in 20 Ländern statt

siehe www.mural-global.org

2002 "Wem gehört die Welt"

Düsseldorf, Parkhaus am Landtag
Künstler: Julieta del Carmen Leon, Cuba, Charles Bhebe, Zimbabwe, Nestor del Pino Sala, Brasilien, Klaus Klinger
2006 von Vodafone zerstört
                            [post_title] => "Wem gehört die Welt", 2002
                            [post_excerpt] => 
                            [post_status] => publish
                            [comment_status] => closed
                            [ping_status] => closed
                            [post_password] => 
                            [post_name] => wem-gehoert-die-welt-2002
                            [to_ping] => 
                            [pinged] => 
                            [post_modified] => 2017-01-13 15:22:50
                            [post_modified_gmt] => 2017-01-13 14:22:50
                            [post_content_filtered] => 
                            [post_parent] => 0
                            [guid] => https://40grad-urbanart.de/?post_type=aktionen&p=2657
                            [menu_order] => 0
                            [post_type] => aktionen
                            [post_mime_type] => 
                            [comment_count] => 0
                            [filter] => raw
                        )

                )

            [events] => 0
            [active_event] => 
        )

    [55] => Array
        (
            [titel] => Pinienstraße
            [koordinaten] => 51.217576, 6.810165
            [marker_id] => 1067
            [permalink] => https://40grad-urbanart.de/orte/pinienstrasse/
            [thumbnail] => https://40grad-urbanart.de/wp-content/uploads/2015/08/Marco.Kässler-347-330x220.jpg
            [actions] => Array
                (
                    [0] => WP_Post Object
                        (
                            [ID] => 1685
                            [post_author] => 7
                            [post_date] => 2016-09-15 18:59:44
                            [post_date_gmt] => 2016-09-15 16:59:44
                            [post_content] => Die internationale HipHop Crew Los Jinetes Del Apocalypsis (LJDA) feiert ihr 19. Aniversario in Düsseldorf vom 27 bis 30. August mit Party, Konzerten und Bemalung einer großen Grafitti-Wand in Flingern.
                            [post_title] => LJDA XIX Anniversary Graffiti-Wand
                            [post_excerpt] => 
                            [post_status] => publish
                            [comment_status] => closed
                            [ping_status] => closed
                            [post_password] => 
                            [post_name] => ljda-xix-anniversary-graffiti-wand
                            [to_ping] => 
                            [pinged] => 
                            [post_modified] => 2017-01-19 14:57:02
                            [post_modified_gmt] => 2017-01-19 13:57:02
                            [post_content_filtered] => 
                            [post_parent] => 0
                            [guid] => https://40grad-urbanart.de/?post_type=aktionen&p=1685
                            [menu_order] => 0
                            [post_type] => aktionen
                            [post_mime_type] => 
                            [comment_count] => 0
                            [filter] => raw
                        )

                )

            [museum] => 0
            [events] => 0
            [active_event] => 
        )

    [56] => Array
        (
            [titel] => Rather Broich 64
            [koordinaten] => 51.259919, 6.814946
            [marker_id] => 1706
            [permalink] => https://40grad-urbanart.de/orte/rather-broich-64/
            [thumbnail] => https://40grad-urbanart.de/wp-content/uploads/2016/09/03-1043A-354x220.jpg
            [actions] => Array
                (
                    [0] => WP_Post Object
                        (
                            [ID] => 1708
                            [post_author] => 7
                            [post_date] => 2016-09-16 13:46:08
                            [post_date_gmt] => 2016-09-16 11:46:08
                            [post_content] => Das Wandbild an der vielbefahrenen Kreuzung Rather Broich / Sankt Franziskusstraße setzt sich mit dem Thema "Mensch und Umwelt" auseinander. Es möchte die Betrachter und Autofahrer auf die Bedrohung der Natur durch menschliches Einwirken aufmerksam machen, nicht zuletzt durch den enormen Verbrauch an Rohstoffen und den Katastrophen, die damit verbunden sind.

Piotr Szwabe organisierte im Sommer 2012 ein Wandmalfestival in Gdansk-Zaspa an dem Klaus Klinger teilnahm.
                            [post_title] => Wandbild "Schöne Aussichten"
                            [post_excerpt] => 
                            [post_status] => publish
                            [comment_status] => closed
                            [ping_status] => closed
                            [post_password] => 
                            [post_name] => wandbild-schoene-aussichten
                            [to_ping] => 
                            [pinged] => 
                            [post_modified] => 2017-01-19 15:06:41
                            [post_modified_gmt] => 2017-01-19 14:06:41
                            [post_content_filtered] => 
                            [post_parent] => 0
                            [guid] => https://40grad-urbanart.de/?post_type=aktionen&p=1708
                            [menu_order] => 0
                            [post_type] => aktionen
                            [post_mime_type] => 
                            [comment_count] => 0
                            [filter] => raw
                        )

                )

            [museum] => 0
            [events] => 0
            [active_event] => 
        )

    [57] => Array
        (
            [titel] => Reisholzer Werfstraße 73
            [koordinaten] => 51.163984, 6.840369
            [marker_id] => 98
            [permalink] => https://40grad-urbanart.de/orte/reisholzer-werfstrasse-73/
            [thumbnail] => https://40grad-urbanart.de/wp-content/uploads/2015/07/40grad_case_mg_120-147x220.jpg
            [actions] => Array
                (
                    [0] => WP_Post Object
                        (
                            [ID] => 1713
                            [post_author] => 7
                            [post_date] => 2016-09-16 14:16:22
                            [post_date_gmt] => 2016-09-16 12:16:22
                            [post_content] => Der Graffitikünstler und Grafiker Sadam beschäftigt sich seit seinem elften Lebensjahr mit Graffiti und Comics und arbeitet seither intensiv in beiden Genres. Zur Zeit studiert er an der FH Dusseldorf. Sein temporärer Teampartner Oldhaus entdeckte 1999 die Sprühdose für sich und erstellt damit seine "größeren Projekte". Speziell für Indoorak­tivitäten greift er auch zu Pinsel und Airbrushpistole. Oldhaus studiert Kommunikationsdesign an der FH Dussel­dorf. Beide Künstler zeigten zuletzt im Mai 2013 eindrucksvolle Beispiele ihrer Arbeit in der Jahresausstellung des Düsseldorfer Künstler e.V. "Schutzraum - Kunst im Bunker".
                            [post_title] => Wandbild von Sadam und Oldhaus zum 40grad urbanart Festival 2013
                            [post_excerpt] => 
                            [post_status] => publish
                            [comment_status] => closed
                            [ping_status] => closed
                            [post_password] => 
                            [post_name] => wandbild-von-sadam-und-oldhaus-zum-40grad-urbanart-festival-2013
                            [to_ping] => 
                            [pinged] => 
                            [post_modified] => 2017-01-19 15:10:06
                            [post_modified_gmt] => 2017-01-19 14:10:06
                            [post_content_filtered] => 
                            [post_parent] => 0
                            [guid] => https://40grad-urbanart.de/?post_type=aktionen&p=1713
                            [menu_order] => 0
                            [post_type] => aktionen
                            [post_mime_type] => 
                            [comment_count] => 0
                            [filter] => raw
                        )

                    [1] => WP_Post Object
                        (
                            [ID] => 1712
                            [post_author] => 7
                            [post_date] => 2016-09-16 14:06:44
                            [post_date_gmt] => 2016-09-16 12:06:44
                            [post_content] => Case ist ein ostdeutscher Urban Art Kunstler, der in Frankfurt am Main lebt und dessen Bilder sich voll und ganz auf die fotorealistischen Darstellung von Körperformen und Portraits beziehen. Er ist einer der vier Mitglieder der Ma­claim Crew, die sich im Jahr 2000 gründete und als Vorreiter monumentaler, fotorealistischer Darstellungsformen innerhalb der Graffitiszene gilt. Gemeinsam mit seinen Crew-Kollegen Tasso und Akut entwickelte Case die für ihn heute typische fotorealistische Sprühtechnik. Im Zentrum seines Schaffens steht der Mensch oder der Körper, den er seinem Ursprung entzieht um ihn in einem veränderten Kontext verfremdet darzustellen. Somit weicht das gän­gige Schönheitsideal einem grotesk-kontroversen Schauwert, der die Bilder wirken und eine bittere Faszination entsteht lasst.
                            [post_title] => Wandbild von Case zum 40grad urbanart Festival 2013
                            [post_excerpt] => 
                            [post_status] => publish
                            [comment_status] => closed
                            [ping_status] => closed
                            [post_password] => 
                            [post_name] => wandbild-von-case-zum-40grad-urbanart-festival-2013
                            [to_ping] => 
                            [pinged] => 
                            [post_modified] => 2017-01-19 15:08:51
                            [post_modified_gmt] => 2017-01-19 14:08:51
                            [post_content_filtered] => 
                            [post_parent] => 0
                            [guid] => https://40grad-urbanart.de/?post_type=aktionen&p=1712
                            [menu_order] => 0
                            [post_type] => aktionen
                            [post_mime_type] => 
                            [comment_count] => 0
                            [filter] => raw
                        )

                )

            [museum] => 0
            [events] => 0
            [active_event] => 
        )

    [58] => Array
        (
            [titel] => Rheinufer (Kaiser-Wilhelm-Ring 16)
            [koordinaten] => 51.229644, 6.764679
            [marker_id] => 2555
            [permalink] => https://40grad-urbanart.de/orte/rheinufer-kaiser-wilhelm-ring-16/
            [thumbnail] => https://40grad-urbanart.de/wp-content/uploads/2016/12/IMG_2688-293x220.jpg
            [actions] => 0
            [museum] => Array
                (
                    [0] => WP_Post Object
                        (
                            [ID] => 2556
                            [post_author] => 7
                            [post_date] => 2016-12-20 17:24:10
                            [post_date_gmt] => 2016-12-20 16:24:10
                            [post_content] => 
                            [post_title] => Malaktion zum Fest 70 Jahre NRW
                            [post_excerpt] => 
                            [post_status] => publish
                            [comment_status] => closed
                            [ping_status] => closed
                            [post_password] => 
                            [post_name] => malaktion-zum-fest-70-jahre-nrw
                            [to_ping] => 
                            [pinged] => 
                            [post_modified] => 2017-01-19 14:58:40
                            [post_modified_gmt] => 2017-01-19 13:58:40
                            [post_content_filtered] => 
                            [post_parent] => 0
                            [guid] => https://40grad-urbanart.de/?post_type=aktionen&p=2556
                            [menu_order] => 0
                            [post_type] => aktionen
                            [post_mime_type] => 
                            [comment_count] => 0
                            [filter] => raw
                        )

                )

            [events] => 0
            [active_event] => 
        )

    [59] => Array
        (
            [titel] => Rheinuferpromenade
            [koordinaten] => 51.223413, 6.769002
            [marker_id] => 1401
            [permalink] => https://40grad-urbanart.de/orte/rheinuferpromenade/
            [thumbnail] => https://40grad-urbanart.de/wp-content/uploads/2016/09/DSC06810-392x220.jpg
            [actions] => 0
            [museum] => Array
                (
                    [0] => WP_Post Object
                        (
                            [ID] => 332
                            [post_author] => 1
                            [post_date] => 2015-07-26 13:52:24
                            [post_date_gmt] => 2015-07-26 11:52:24
                            [post_content] => 
                            [post_title] => Klebeaktion am Rheinufer
                            [post_excerpt] => 
                            [post_status] => publish
                            [comment_status] => closed
                            [ping_status] => closed
                            [post_password] => 
                            [post_name] => klebeaktion-am-rheinufer
                            [to_ping] => 
                            [pinged] => 
                            [post_modified] => 2017-01-19 14:56:00
                            [post_modified_gmt] => 2017-01-19 13:56:00
                            [post_content_filtered] => 
                            [post_parent] => 0
                            [guid] => http://40grad-urbanart.de/?post_type=galerie&p=332
                            [menu_order] => 0
                            [post_type] => aktionen
                            [post_mime_type] => 
                            [comment_count] => 0
                            [filter] => raw
                        )

                )

            [events] => 0
            [active_event] => 
        )

    [60] => Array
        (
            [titel] => Schmiedestraße 25
            [koordinaten] => 51.210721, 6.805638
            [marker_id] => 2630
            [permalink] => https://40grad-urbanart.de/orte/schmiedestrasse-25/
            [thumbnail] => https://40grad-urbanart.de/wp-content/uploads/2017/01/483A-289x220.jpg
            [actions] => Array
                (
                    [0] => WP_Post Object
                        (
                            [ID] => 2632
                            [post_author] => 7
                            [post_date] => 2017-01-12 12:00:11
                            [post_date_gmt] => 2017-01-12 11:00:11
                            [post_content] => Gegen Gewalt und Rassismus wendet sich das Projekt, das Farbfieber zusammen mit elf SchülerInnen der Adolf Reichwein Schule und Ines Steggewentze an der Düsseldorfer Schmiedestrasse im Oktober 2003 durchführte.

Die Schule unterrichtet 390 Schüler aus 35 Nationen, so dass der Titel des Projektes "Aus Fremden werden Freunde" auch auf für den Alltag in der Schule zutreffend ist.

Wandbild mit Schülern
Künstler: Klaus Klinger
Mitarbeiterin: Paola Ramirez

 
                            [post_title] => Wandbild "Ohne Worte" mit Schülern an der Schmiedestraße und Klaus Klinger, 2003
                            [post_excerpt] => 
                            [post_status] => publish
                            [comment_status] => closed
                            [ping_status] => closed
                            [post_password] => 
                            [post_name] => wandbild-ohne-worte-mit-schuelern-an-der-schmiedestrasse-und-klaus-klinger-2003
                            [to_ping] => 
                            [pinged] => 
                            [post_modified] => 2017-01-12 12:00:11
                            [post_modified_gmt] => 2017-01-12 11:00:11
                            [post_content_filtered] => 
                            [post_parent] => 0
                            [guid] => https://40grad-urbanart.de/?post_type=aktionen&p=2632
                            [menu_order] => 0
                            [post_type] => aktionen
                            [post_mime_type] => 
                            [comment_count] => 0
                            [filter] => raw
                        )

                )

            [museum] => 0
            [events] => 0
            [active_event] => 
        )

    [61] => Array
        (
            [titel] => Suitbertusstraße 151
            [koordinaten] => 51.204317, 6.776087
            [marker_id] => 99
            [permalink] => https://40grad-urbanart.de/orte/suitbertusstrasse-151/
            [thumbnail] => https://40grad-urbanart.de/wp-content/uploads/2015/07/pixel-03-marc-kl-147x220.jpg
            [actions] => Array
                (
                    [0] => WP_Post Object
                        (
                            [ID] => 1716
                            [post_author] => 7
                            [post_date] => 2016-09-16 14:46:00
                            [post_date_gmt] => 2016-09-16 12:46:00
                            [post_content] => Für dieses anspruchsvolle Urban Art Projekt auf einer Hauswand im Rahmen des 40 Grad Festivals hat "Magic" Oli­ver Räke eine Gruppe von in Düsseldorf lebenden Künstlern zusammengebracht, die mit ihren Arbeiten zum Teil weltbekannt sind: die Urban Artists Dxtr The Weird, KJ263 sowie Roman Klonek und Max "Mexer" Fiedler. Oliver Räkes Anfänge als Künstler reichen in die frühen 8Oer Jahre zurück: Unter dem Pseudonym "Magic" war er einer der ersten Graffitisprayer in Deutschland und konnte sich schnell einen Namen machen. Das Wandbild ist eine Aus­einandersetzung und neue Interpretation des Düsseldorfer Stadterhebungsmonument von Bert Gerresheim.
                            [post_title] => Wandbild "Remixing Gerresheim" zum 40grad urbanart Festival 2013
                            [post_excerpt] => 
                            [post_status] => publish
                            [comment_status] => closed
                            [ping_status] => closed
                            [post_password] => 
                            [post_name] => wandbild-remixing-gerresheim-zum-40grad-urbanart-festival-2013
                            [to_ping] => 
                            [pinged] => 
                            [post_modified] => 2017-01-19 15:05:17
                            [post_modified_gmt] => 2017-01-19 14:05:17
                            [post_content_filtered] => 
                            [post_parent] => 0
                            [guid] => https://40grad-urbanart.de/?post_type=aktionen&p=1716
                            [menu_order] => 0
                            [post_type] => aktionen
                            [post_mime_type] => 
                            [comment_count] => 0
                            [filter] => raw
                        )

                    [1] => WP_Post Object
                        (
                            [ID] => 1714
                            [post_author] => 7
                            [post_date] => 2016-09-16 14:26:23
                            [post_date_gmt] => 2016-09-16 12:26:23
                            [post_content] => Pixelpancho gilt als eine der neuen Größen der italienischen Urban Art Szene, welche sich nach und nach um Künstler wie Blu, Erica il cane, dem Fame Festival und Studio Chromie entwickelt hat. In seiner surrealistischen Bildwelt verschmel­zen Marionetten, Roboter, Spielzeuge und uralte Kreaturen zu einer Verbildlichung und Anspielung auf große Mar­ken des Kommerzes, Superhelden und namhafter Popikonen, welchen - dem ständigen Wandel unterlegen-, der Zerfall droht. Pixelpancho gelingt es nicht bloß auf Grund seiner auffälligen Motive zu überzeugen, sondern auch wegen seines einzigartigen Stils, der aus verschiedenen und mannigfaltigen Quellen schöpft.
                            [post_title] => Wandbild von Pixelpancho zum 40grad urbanart Festival 2013
                            [post_excerpt] => 
                            [post_status] => publish
                            [comment_status] => closed
                            [ping_status] => closed
                            [post_password] => 
                            [post_name] => wandbild-von-pixelpancho-zum-40grad-urbanart-festival-2013
                            [to_ping] => 
                            [pinged] => 
                            [post_modified] => 2017-01-19 15:09:46
                            [post_modified_gmt] => 2017-01-19 14:09:46
                            [post_content_filtered] => 
                            [post_parent] => 0
                            [guid] => https://40grad-urbanart.de/?post_type=aktionen&p=1714
                            [menu_order] => 0
                            [post_type] => aktionen
                            [post_mime_type] => 
                            [comment_count] => 0
                            [filter] => raw
                        )

                )

            [museum] => 0
            [events] => 0
            [active_event] => 
        )

    [62] => Array
        (
            [titel] => Suitbertusstraße 163 – Jugendclub TREFF
            [koordinaten] => 51.204116, 6.777690
            [marker_id] => 112
            [permalink] => https://40grad-urbanart.de/orte/suitbertusstrasse-163-jugendclub-treff/
            [thumbnail] => https://40grad-urbanart.de/wp-content/uploads/2015/07/wb-barto-01-330x220.jpg
            [actions] => Array
                (
                    [0] => WP_Post Object
                        (
                            [ID] => 2255
                            [post_author] => 7
                            [post_date] => 2016-12-10 19:30:37
                            [post_date_gmt] => 2016-12-10 18:30:37
                            [post_content] => 
                            [post_title] => Bartotainment zum 40grad Festival 2013
                            [post_excerpt] => 
                            [post_status] => publish
                            [comment_status] => closed
                            [ping_status] => closed
                            [post_password] => 
                            [post_name] => bartotainment-zum-40grad-festival-2013
                            [to_ping] => 
                            [pinged] => 
                            [post_modified] => 2017-01-19 14:52:20
                            [post_modified_gmt] => 2017-01-19 13:52:20
                            [post_content_filtered] => 
                            [post_parent] => 0
                            [guid] => https://40grad-urbanart.de/?post_type=aktionen&p=2255
                            [menu_order] => 0
                            [post_type] => aktionen
                            [post_mime_type] => 
                            [comment_count] => 0
                            [filter] => raw
                        )

                )

            [museum] => 0
            [events] => 0
            [active_event] => 
        )

    [63] => Array
        (
            [titel] => Toulouser Allee
            [koordinaten] => 51.243392, 6.795100
            [marker_id] => 2830
            [permalink] => https://40grad-urbanart.de/orte/toulouser-allee/
            [thumbnail] => https://40grad-urbanart.de/wp-content/uploads/2019/08/P1420285-293x220.jpg
            [actions] => Array
                (
                    [0] => WP_Post Object
                        (
                            [ID] => 2943
                            [post_author] => 7
                            [post_date] => 2020-01-17 13:57:25
                            [post_date_gmt] => 2020-01-17 12:57:25
                            [post_content] => An der Gestaltung der ca. 2000 qm großen Fläche an und unter der Jülicher Brücke haben ca. 70 lokal, regional und auch international bekannte Graffiti und Urban Art Künstler*innen mitgewirkt. Angrenzend an das Mahnmal für die deportierten Juden und Jüdinnen am alten Güterbahnhof haben die Künstler unter dem Motto BRÜCKEN DENKEN  das 40° Urban Art Festival 2019 zu etwas ganz besonderem gemacht.
                            [post_title] => 40grad urbanart Festival 2019 - Brücken Denken
                            [post_excerpt] => 
                            [post_status] => publish
                            [comment_status] => closed
                            [ping_status] => closed
                            [post_password] => 
                            [post_name] => 40grad-urbanart-festival-2019-bruecken-denken
                            [to_ping] => 
                            [pinged] => 
                            [post_modified] => 2020-01-17 18:35:28
                            [post_modified_gmt] => 2020-01-17 17:35:28
                            [post_content_filtered] => 
                            [post_parent] => 0
                            [guid] => https://40grad-urbanart.de/?post_type=aktionen&p=2943
                            [menu_order] => 0
                            [post_type] => aktionen
                            [post_mime_type] => 
                            [comment_count] => 0
                            [filter] => raw
                        )

                )

            [museum] => 0
            [events] => 0
            [active_event] => 
        )

    [64] => Array
        (
            [titel] => Unterführung Ellerstraße
            [koordinaten] => 51.217217, 6.791366
            [marker_id] => 2544
            [permalink] => https://40grad-urbanart.de/orte/unterfuehrung-ellerstrasse/
            [thumbnail] => https://40grad-urbanart.de/wp-content/uploads/2016/12/foto-mavi-garcia-330x220.jpg
            [actions] => Array
                (
                    [0] => WP_Post Object
                        (
                            [ID] => 2546
                            [post_author] => 7
                            [post_date] => 2016-12-20 15:32:46
                            [post_date_gmt] => 2016-12-20 14:32:46
                            [post_content] => Wem gehört die Stadt?
So fragt dich die Wand in der Unterführung Ellerstraße, 40 KünstlerInnen geben ihre Antwort ganz konkret, indem sie die komplette Unterführung beidseitig gestalteten, als Geschenk an die Bürger dieser Stadt.
Die heruntergekommene Unterführung ist dabei als ein Symbol zu sehen, als ein krasser Gegensatz zu dem Bild der Stadt, das immer wieder von Politikern und Investoren beschworen, vermarktet und verkauft wird. Kö-bogen, Mega-Events und die etablierte Hochkultur sind da wichtiger, dafür werden zig Millionen ausgegeben, für die freie Kulturszene und solche Orte bleibt nur wenig übrig. 20 Jahre wird von Stadt und Bundesbahn über diese dunklen, hässlichen Orte diskutiert und nichts passiert.
Nun nehmen wir das selbst in die Hand, um zu zeigen, dass ohne Bürokratie, ordnungspolitischen Maßnahmen und Einschränkungen, einiges mehr in dieser Stadt möglich ist, als Luxussanierungen und kommerzieller Popanz. Eine der wenigen Unterführungen, die von der Stadt saniert wurde, hat 80.000,- Euro gekostet. So sind die 4000,- Euro vom Kulturamt für diese Unterführung, die dreimal so groß ist, nur eine sehr bescheidene Geste.

Gefeiert wurde mit einem Stadtteilfest und viel Livemusik
                            [post_title] => 'Licht im Tunnel', Gestaltung der Unterführung Ellerstraße, 2011
                            [post_excerpt] => 
                            [post_status] => publish
                            [comment_status] => closed
                            [ping_status] => closed
                            [post_password] => 
                            [post_name] => licht-im-tunnel-gestaltung-der-unterfuehrung-ellerstrasse-2011
                            [to_ping] => 
                            [pinged] => 
                            [post_modified] => 2017-01-19 15:19:21
                            [post_modified_gmt] => 2017-01-19 14:19:21
                            [post_content_filtered] => 
                            [post_parent] => 0
                            [guid] => https://40grad-urbanart.de/?post_type=aktionen&p=2546
                            [menu_order] => 0
                            [post_type] => aktionen
                            [post_mime_type] => 
                            [comment_count] => 0
                            [filter] => raw
                        )

                )

            [museum] => 0
            [events] => 0
            [active_event] => 
        )

    [65] => Array
        (
            [titel] => Unterführung Worringer Platz
            [koordinaten] => 51.224018, 6.795571
            [marker_id] => 2587
            [permalink] => https://40grad-urbanart.de/orte/unterfuehrung-worringer-platz/
            [thumbnail] => https://40grad-urbanart.de/wp-content/uploads/2017/01/IMG_3247-293x220.jpg
            [actions] => Array
                (
                    [0] => WP_Post Object
                        (
                            [ID] => 2589
                            [post_author] => 7
                            [post_date] => 2017-01-10 17:07:21
                            [post_date_gmt] => 2017-01-10 16:07:21
                            [post_content] => 
                            [post_title] => Graffiti Malaktion in der Unterführung Worringer Platz, 1994
                            [post_excerpt] => 
                            [post_status] => publish
                            [comment_status] => closed
                            [ping_status] => closed
                            [post_password] => 
                            [post_name] => graffiti-malaktion-in-der-unterfuehrung-worringer-platz-1994
                            [to_ping] => 
                            [pinged] => 
                            [post_modified] => 2017-01-10 17:07:21
                            [post_modified_gmt] => 2017-01-10 16:07:21
                            [post_content_filtered] => 
                            [post_parent] => 0
                            [guid] => https://40grad-urbanart.de/?post_type=aktionen&p=2589
                            [menu_order] => 0
                            [post_type] => aktionen
                            [post_mime_type] => 
                            [comment_count] => 0
                            [filter] => raw
                        )

                )

            [museum] => 0
            [events] => 0
            [active_event] => 
        )

    [66] => Array
        (
            [titel] => Vennhauser Allee, hall of fame
            [koordinaten] => 51.203317, 6.851639
            [marker_id] => 1756
            [permalink] => https://40grad-urbanart.de/orte/vennhauser-allee-hall-of-fame/
            [thumbnail] => https://40grad-urbanart.de/wp-content/uploads/2016/09/DSC03362-330x220.jpg
            [actions] => Array
                (
                    [0] => WP_Post Object
                        (
                            [ID] => 2493
                            [post_author] => 7
                            [post_date] => 2016-12-20 14:51:41
                            [post_date_gmt] => 2016-12-20 13:51:41
                            [post_content] => Im September 2016 wurde die hall of fame in Eller, Vennhauser Allee, organisiert von Verbunt e.V. mit zahlreichen Künstlern wieder neu gestaltet.
                            [post_title] => Hall of fame (Eller), alles frisch, 2016
                            [post_excerpt] => 
                            [post_status] => publish
                            [comment_status] => closed
                            [ping_status] => closed
                            [post_password] => 
                            [post_name] => hall-of-fame-eller-alles-frisch-2016
                            [to_ping] => 
                            [pinged] => 
                            [post_modified] => 2016-12-20 14:51:41
                            [post_modified_gmt] => 2016-12-20 13:51:41
                            [post_content_filtered] => 
                            [post_parent] => 0
                            [guid] => https://40grad-urbanart.de/?post_type=aktionen&p=2493
                            [menu_order] => 0
                            [post_type] => aktionen
                            [post_mime_type] => 
                            [comment_count] => 0
                            [filter] => raw
                        )

                )

            [museum] => Array
                (
                    [0] => WP_Post Object
                        (
                            [ID] => 2038
                            [post_author] => 7
                            [post_date] => 2016-12-09 16:04:39
                            [post_date_gmt] => 2016-12-09 15:04:39
                            [post_content] => Nach jahrelangen Forderungen war es nun endlich soweit:

Die Unterführung Vennhauser Allee ist Düsseldorfs erste "hall of fame"
                            [post_title] => Hall of fame (Eller) - die erste Bemalung
                            [post_excerpt] => 
                            [post_status] => publish
                            [comment_status] => closed
                            [ping_status] => closed
                            [post_password] => 
                            [post_name] => hall-of-fame-eller-die-erste-bemalung
                            [to_ping] => 
                            [pinged] => 
                            [post_modified] => 2016-12-09 16:07:02
                            [post_modified_gmt] => 2016-12-09 15:07:02
                            [post_content_filtered] => 
                            [post_parent] => 0
                            [guid] => https://40grad-urbanart.de/?post_type=aktionen&p=2038
                            [menu_order] => 0
                            [post_type] => aktionen
                            [post_mime_type] => 
                            [comment_count] => 0
                            [filter] => raw
                        )

                )

            [events] => 0
            [active_event] => 
        )

    [67] => Array
        (
            [titel] => Wiesenstraße 72
            [koordinaten] => 51.226777, 6.708148
            [marker_id] => 108
            [permalink] => https://40grad-urbanart.de/orte/wiesenstrasse-72/
            [thumbnail] => https://40grad-urbanart.de/wp-content/uploads/2015/07/40grad_let_mg_043-330x220.jpg
            [actions] => Array
                (
                    [0] => WP_Post Object
                        (
                            [ID] => 1741
                            [post_author] => 7
                            [post_date] => 2016-09-19 15:05:24
                            [post_date_gmt] => 2016-09-19 13:05:24
                            [post_content] => L.E.T. ist französischer Abstammung und lebt in Düsseldorf. Er gehört zu den ersten deutschen Urban Art Künstlern. Er ist auch heute aktiv auf der Straße und prägt das Bild seiner jetzigen Heimatstadt. Seine Motive sprüht er auf Pa­pier und plakatiert sie dann als "Cutout". Seine Arbeiten zitieren die charmante, provokante und witzige englische Street-Art. Er lässt sich von den bekannten Werken inspirieren, die er jedoch auf seine ganz eigene Art und Weise interpretiert. Dabei bevorzugt er Motive mit starker Symbolkraft. Diese verarbeitet er kollagenartig in seinen Werken und weist ihnen so eine neue Aussage zu, bzw. entwickelt die Ideen seiner Künstlerkollegen konsequent weiter.

L.E.T. hat seine Werke in zahlreichen weltweiten Ausstellungen und Streetart-Conventions gezeigt. Die konse­quente Weiterentwicklung als Künstler war für ihn der Weg in die Galerie: Auf Leinwand, Pappe oder Holz macht er seine flüchtige Straßenkunst dauerhaft erlebbar.
                            [post_title] => L.E.T. bei Boesner zum 40grad urbanart Festival 2013
                            [post_excerpt] => 
                            [post_status] => publish
                            [comment_status] => closed
                            [ping_status] => closed
                            [post_password] => 
                            [post_name] => l-e-t-bei-boesner-zum-40grad-urbanart-festival-2013
                            [to_ping] => 
                            [pinged] => 
                            [post_modified] => 2017-01-19 14:56:42
                            [post_modified_gmt] => 2017-01-19 13:56:42
                            [post_content_filtered] => 
                            [post_parent] => 0
                            [guid] => https://40grad-urbanart.de/?post_type=aktionen&p=1741
                            [menu_order] => 0
                            [post_type] => aktionen
                            [post_mime_type] => 
                            [comment_count] => 0
                            [filter] => raw
                        )

                )

            [museum] => 0
            [events] => 0
            [active_event] => 
        )

)

Aktionen
Alle drei Monate organisiert der Kinderclub auf der Kiefernstraße eine Wandmalaktion. Bekannte und unbekannte Maler gestelten gemeinsam zu einem vorgegebenen Thema den so genannten "antikapitalistischen Schutzwall". Zum Kiefernstraßenfest 2016 wurde die Mauer zum Thema "35 Jahre besetzte Kiefern" gestaltet.
10.09.2016
AWO-Haus, Liststr. 2, 2016
Die Wand ist 25m hoch, zu den Gleisen am Bahnhof Derendorf gelegen und ist von allen Zügen, die aus dem Norden nach Düsseldorf kommen, zu sehen. Die Welt ist in Gefahr und wir müssen was tun, das ist die Botschaft des Wandbildes. Das Bild ist eins von sechzehn Wandbildern, die 2016 im Rahmen des landesweiten Projektes Weltbaustellen, des Eine Welt Netz NRW entstehen. "Heisse Welt", Liststr. 2, 2016 AWO-Haus, S-Bahnhof Derendorf… weiterlesen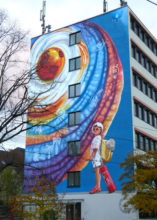 04.09.2016
Vennhauser Allee, hall of fame
Im September 2016 wurde die hall of fame in Eller, Vennhauser Allee, organisiert von Verbunt e.V. mit zahlreichen Künstlern wieder neu gestaltet.
17.07.2016
LVR - Klinikum Düsseldorf, Weltbaustelle 1
16.04.2016
Jägerstraße 21
Wandbild neben der fiftyfifty Galerie, die sich um odachlose Menschen kümmert. Parallel dazu fand in der Galerie eine Ausstellung mit dem griechischen Cartoonisten Michael Kountouris zum Thema Flüchtlinge statt. Begleitend fand ein Workshop mit jugendlichen Flüchtlingen statt. Das Wandbild setzt sich mit dem Thema Haben und Teilen auseinander und nimmt den zunehmenden Egoismus der Gesellschaft ins Visier. Dem großen Haben im Hintergrund steht ein kleines Teilen gegenüber, eingesperrt in Stacheldraht…. weiterlesen